This shark trying to frost some cupcakes is all of us on Friday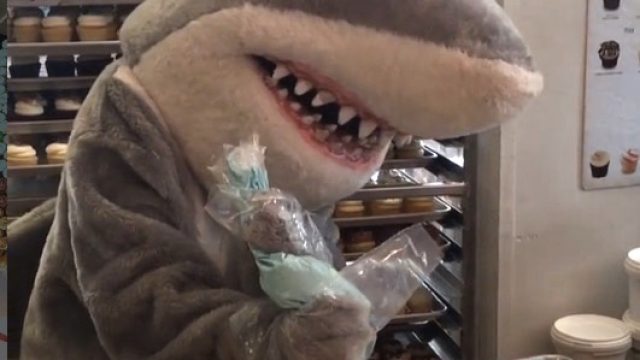 Things that just go together are pairs like peanut butter and jelly, and Ross and Rachel, and cookies and milk. Things that don't go so well together are sharks and cupcakes, but on a daily basis you don't necessarily expect to see those two hand in hand.
If that combination is something you're trying to picture in your mind right now, don't strain yourself too hard. You can see it IRL for yourself right now, because in honor of the upcoming Shark Week, Georgetown Cupcakes in Washington, D.C.  invited a shark into their bakery to help make the cupcakes.
Don't worry, it's not like a ~real~ shark. From what we can gather, this shark is maybe the cousin of our friend Left Shark. Or at least he frosts cupcakes like Left Shark.
IT'S NOT EVERY DAY YOU SEE A SHARK TRYING AS HARD AS HE CAN TO FROST SOME CUPCAKES.
We'll give him points for effort, and these cupcakes look…okay. Fine, we'd eat them, because a cupcake is a cupcake. But don't go quitting your day job, Frosting Shark.
With some human assistant, Frosting Shark was able to create a beautiful shark cupcake mosaic. Now THIS looks good enough to eat.