Frosé sorbet is now a thing, because who run the world? Millennials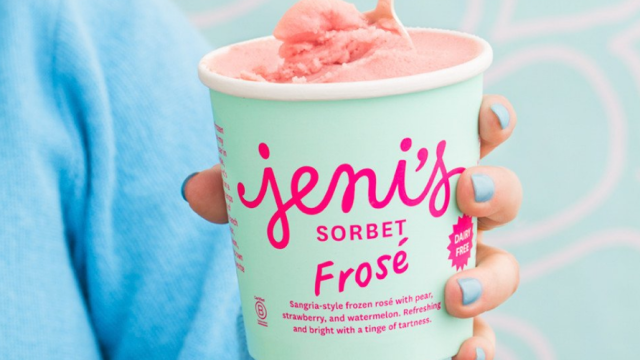 Just in case you thought the rosé phenomenon was on its way out, don't worry — it's here to stay for at least another summer. You probably met frosé (AKA a pink wine slushie) when it took over Instagram last year, and now, it's coming to your fave local ice cream shop. It's true, everyone: frosé sorbet exists, and it sounds seriously delicious.
As Bustle reports, the frosé sorbet is made by Jeni's Splendid Ice Creams, and even though it contains wine, it sounds like it would also make a pretty awesome mixer (who can say no to more rosé?), especially on a hot day. It's a sangria-style rosé, made with pear, strawberry, and watermelon flavors, which sounds perfect for spring.
Here's the official description of the frosé sorbet, straight from Jeni's:
"This sorbet tastes like some of the best frosé we've ever had. Simple, bright, refreshing — it's exactly what you want on a hot day. We start with rosé from Peregrine Ranch in Sonoma Valley. A fruity rosé filled with notes of bright strawberry, subtle blackberry jam, and hints of lemon zest. It's got crisp acidity and a dry, refreshing finish. We amp up all these flavor notes with added pear and strawberry, plus watermelon essence and lemon juice. It's great topped with your favorite sparkling wine, a shot of tequila, or even more rosé."
No big deal, this just sounds like the answer to our summer drinking prayers.
And if you're in need of this delicious frozen snack ASAP, it's pretty easy to get. You can order a pint for $12 on the Jeni's website (guaranteed to show up at your door, frozen!), visit one of the scoop shops, or put your zip code in the store locator to find out which grocery stores near you might be selling Jeni's products.
BRB, we gotta go buy some of this, like, yesterday.