From this sneak peek, Too Faced's new Chocolate Gold palette looks ultra-glam on the lids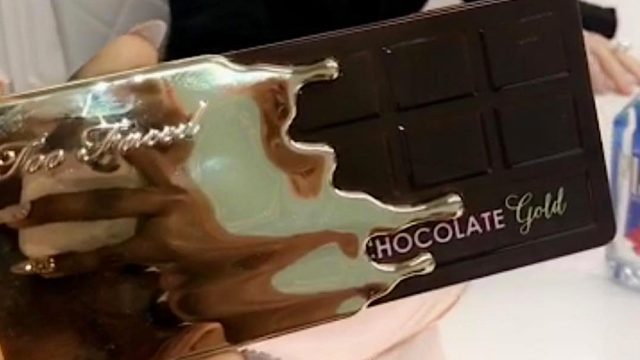 We already know that Jerrod Blandino makes the most decadent and truly beautiful eyeshadow palettes around, but it looks like he's finally outdone himself with the upcoming Too Faced Chocolate Gold palette. This insanely glamorous new palette is as rich and luxurious as they come, and after seeing these sneak peeks, it's flown to the top of our wish lists.
Given Jerrod's most recent Instagram teases, we can't help but wonder if there's a whole lot of gold-inspired makeup coming our way. But even if it's just the one palette, we'll be more than happy.
There are 16 beautiful new shades in Too Faced's new Chocolate Gold palette.
Each is more luxe than the last.
We can't remember the last time we got a sneak peek that got us this excited. These radiant metallic shades are infused with real gold and chocolate — can you just imagine how delicious it must smell?
We fully anticipate the Too Faced Chocolate Gold palette to blow all others out of the water.
Look how insanely glamorous the model's eye makeup looks with just one shade from the palette!
Jerrod has given us no indication of when this palette will launch, but we're crossing our fingers it's coming out soon.
Could it be a part of the highly anticipated holiday collection? Or will this be released on its own? Jerrod, we need our very important questions answered! Til he deigns to respond, we'll just have to keep staring at these sneak peeks over and over.