"Friendsgiving donuts" are a real thing so prepare to drool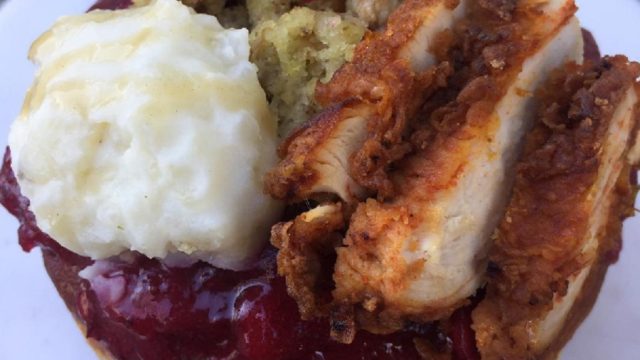 If you think your holiday dinner menu is set in stone, think again because Friendsgiving donuts are a real thing (thanks Cosmo for bringing these to our attention). By the looks of it, these mouthwatering treats deserve a spot among all your family's favorite holiday desserts. They're a bit heavy, though — the donuts are literally topped with all of the best Thanksgiving foods.
Created by PVDonuts in Providence, Rhode Island, the "Friendsgiving" donut sounds like the ideal dessert for holiday house-hoppers who are too stuffed from their previous stop, but still interested in sampling what their current host's spread has to offer (read: basically anyone who celebrates Thanksgiving).
Neatly piled on top of the the brioche are mashed potatoes with gravy, stuffing, cranberry glaze and slices of fried chicken (sorry, turkey lovers).
If you're like us, you're probably wondering how the hell you eat something like this without making a complete mess. Easy answer: Slice it in half and devour accordingly:
Whew. These doughnuts might be too rich for our blood, but we'd probably be down to take a bite (or three).