The "Friends" reunion finally happened, and it was everything we hoped it would be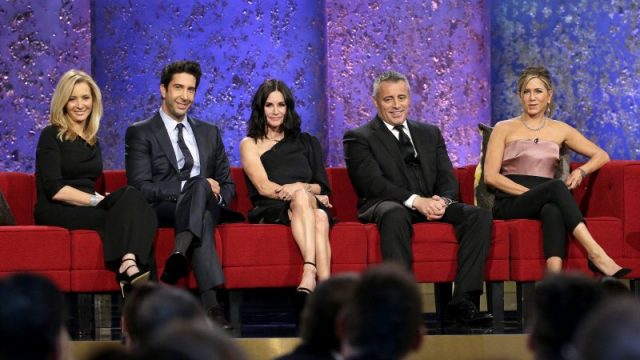 Last night, our dreams came true. The Friends reunion finally happened! Okay, so Matthew Perry wasn't there in person, but still—this is the closest thing we've had to a reunion, and fans have been waiting for this moment since the show ended in 2004. The reunion happened during NBC's Must See TV: An All-Star Tribute to James Burrows.
James, largely considered the best living comedy director alive today, recently celebrated the milestone of directing his 1,000th episode with the NBC pilot for Crowded—a seriously impressive feat. Host Andy Cohen gathered the casts of Friends, The Big Bang Theory, Frasier, Cheers, Taxi, Will & Grace and Mike & Molly to commemorate the occasion and James' contributions to TV over the past few decades.
The Friends reunion started with Matthew Perry, who was unable to attend the special due to prior commitments in London, introducing the rest of the cast in a pre-taped video clip. And when their names were called, the crowd went absolutely wild. Yes, the room was filled with actors, but nobody was too cool to cheer for Friends.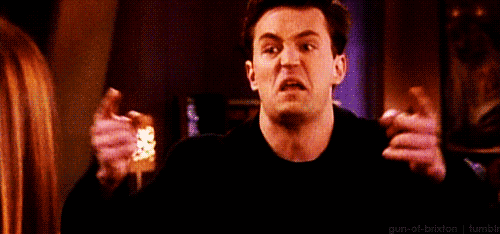 Seeing Jennifer Aniston, Matt LeBlanc, Courteney Cox, David Schwimmer and Lisa Kudrow together on the same couch took us straight back to the mid-'90s. Everyone looks fantastic! And they're just as in love with each other as ever. Together they watched old clips of the show, told stories from the set and shared how much of an impact James had on all of them. As you can imagine, the Friends cast has been tight since day one, which is something they largely attribute to the legendary director.
"We really just wanted to hang out with each other," said Jennifer. "We fell in love adored with each other instantly. And would hang out at each others' houses and watch the show together." The cast echoed her thought, saying they particularly loved to watch the scenes they weren't personally in and brainstorm together how they could push their characters.
Matt LeBlanc shared one of his favorite Joey moments—the scene in the ER waiting room after Ross gets hit in the face with a hockey puck at a Rangers game. There's a moment where Joey holds the puck up to his own face and pretends that it's coming at him in slow motion. Apparently, that physical bit was something that James suggested he try.
"It's just that little sort of seed that he gives you," said Matt. "That's the thing about him. He doesn't say a lot. He gives you credit for being an artist."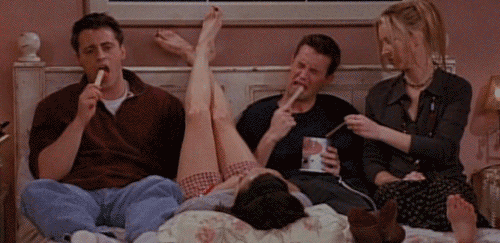 Courtney talked about one of her favorite episodes, "The One with the Blackout," which other cast members have referenced as a favorite before too. Specifically, she loves the scene where Ross is on the balcony with Rachel, battling with Paolo's cat on his shoulders—unbeknownst to the rest of the friends.
"Jimmy said, just keep going with the cat on my back," said David of that scene. "Just keep doing it, keep doing it until I yell cut. And he just never did."
Jennifer loved when the show did flashbacks and showed the friends in high school or college.
"I always loved the flashbacks," she said. "I always loved when we would flash back to Fat Monica, or Rachel pre-nose job, and Ross with his afro."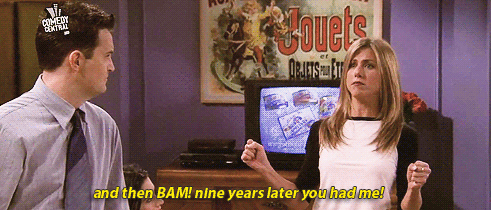 The cast made one thing clear: None of this would have been possible without James.
"There's nothing that I don't think anyone in this room wouldn't do for him," said Jennifer on his legacy as a sitcom director. "And I think he taught us everything that we know about comedy, timing, support, collaboration… he's our papa."
Of course, Friends wasn't the only cast that reunited. Eric McCormack, Sean Hayes and Megan Mullally laughed over old Will & Grace clips and talked about how groundbreaking the show was in moving forward the gay movement in America. Ted Danson, Shelley Long, Rhea Perlman, John Ratzenberger and George Wendt celebrated their '80s sitcom Cheers. And the casts of The Big Bang Theory, Taxi, Frasier and Mike & Molly sung the director's praises as well.
Yes, last night we got our Friends reunion, but everyone in the room gathered for one main reason: To celebrate James and the impact he had on their shows. Everyone from every cast repeated the same refrain over and over: Jimmy was kind, encouraging and made the cast feel like a family. He was a father figure to them, and they owe him everything. So thank you, Jimmy, for helping to create and mold some of our all-time favorite sitcoms. Here's to many more episodes!