The 'Friends' Reunion Director Revealed Which Cast Member He Had to Win Over First
Without this approval, the show *may* not have happened.
When Friends: The Reunion premiered on May 27th, it looked flawless. All the core cast members took part, it was full of guest stars, and the nostalgia level was off the charts. But director Ben Winston (who is also executive producer of The Late Late Show) told The Sunday Times on June 6th that making it all happen was definitely a process. And it all started with getting the original cast on board.
Winston said that while there was no real leader from that core cast, he knew which cast member he would need to speak with first to even get the reunion idea off the ground: David Schwimmer, who plays Ross Geller. Schwimmer, according to Winston, had been involved in the show more creatively than the others, so he would have had the most to say about bringing everything back. "He was the one I had to win over first," he said. "He heard my ideas and then vouched for me."
Once Schwimmer was on board, Winston met with Lisa Kudrow, Courteney Cox, and Matt LeBlanc (Phoebe Buffay, Monica Geller, and Joey Tribbiani) all together. Next he met with Matthew Perry (Chandler Bing) over FaceTime. Last on board was Jennifer Aniston (Rachel Green), but she was excited from the jump, Winston claimed.
Aniston even shared a photo from the reunion to her Instagram Stories just yesterday calling Winston a "creative unicorn."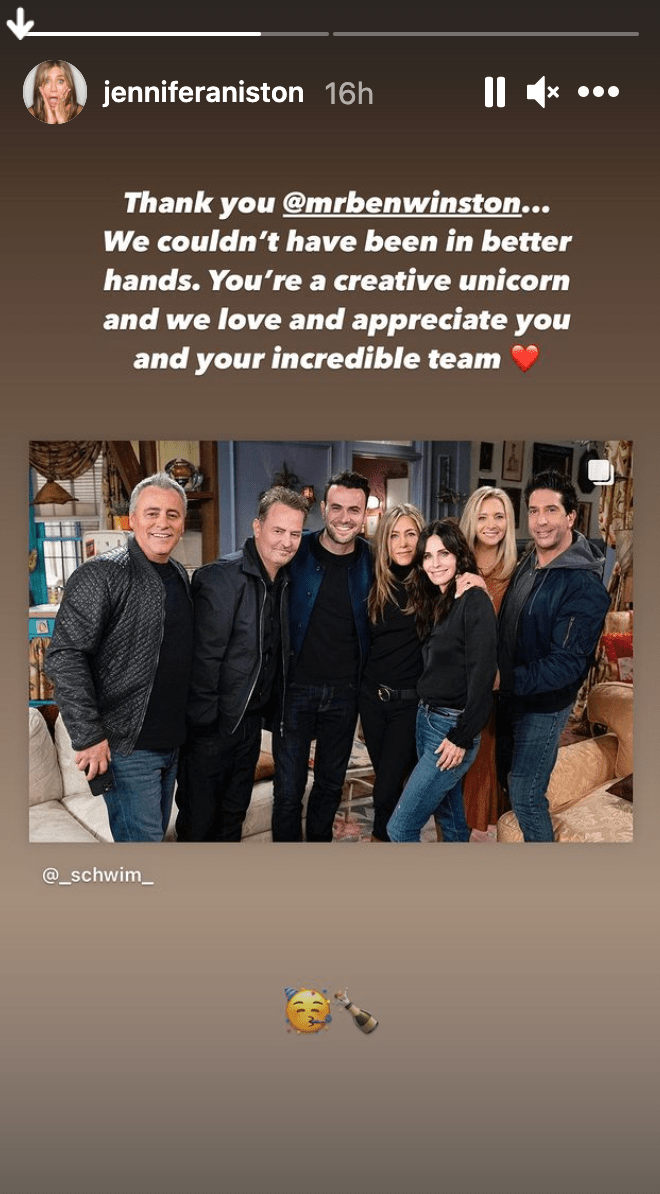 The Friends reunion was nearly two years in the making. Winston wrote on Instagram the day of the premiere that he'd had his first meeting about it 22 months prior. Along with his many thank-yous, Winston thanked the creators of the original series: Kevin Bright, David Crane, and Marta Kauffman. "You created one of the best shows of all time. Thanks for trusting me with your baby," he wrote.
Really, though, thank you, Ben Winston, for making this reunion special happen. We'll be watching it again and again on HBO Max for a very long time.