You can now own Joey's Hugsy penguin and other Friends props—and proceeds go to a good cause
Friends fans will have the opportunity of their dreams next month: the chance to own a bit of the TV show's history. On Tuesday, November 19th, Warner Bros. announced that dozens of iconic Friends props, costumes, and more will be auctioned off to celebrate the show's 25th anniversary. You'll be able to bid on items such as Joey's Hugsy penguin and the beloved Central Perk orange couch.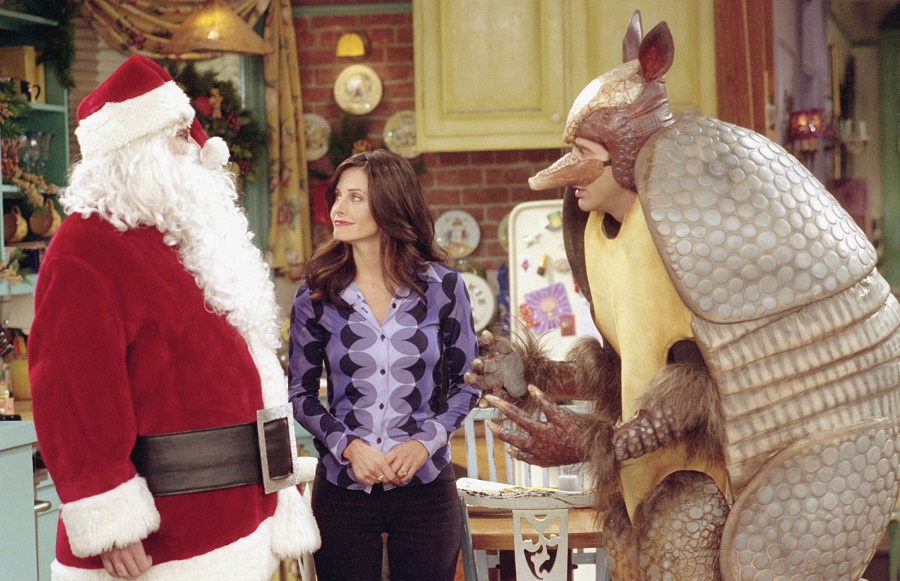 The auction takes place from December 3rd through to December 17th (but you can register right now), and proceeds are going to The Trevor Project, a non-profit organization focused on suicide prevention efforts for the LGBTQ+ youth.
Some other items up for grabs are Joey and Chandler's wooden canoe, Joey's Soap Opera Digest magazine, and even Monica and Chandler's wedding invitation set.
There will also be a ton of Rachel outfits available, including the Ralph Lauren blouse and pants she wore in that elevator scene with the real Ralph Lauren in Season 6.
But be warned: The pieces are not cheap. In fact, expect to make a dent in your savings if you're looking to own some of the most notable Friends memorabilia. Bidding starts at $1,000 for Hugsy and $10,000 for Ross's holiday armadillo costume. But it's for a great cause, right?
All items come with a Warner Bros. Certificate of Authenticity, and all fans who sign up for the Prop Store auction are eligible to win a production script from the show.
"The series gave us so many laughs during its original run and continues to entertain and inspire fans around the world," Brandon Alinger, COO of Prop Store, said in a statement. "It's an honor to be able to bring some amazing original pieces to the fans."
The auction announcement comes after Jennifer Aniston hinted that a Friends reunion might be in the works, so imagine watching all your favorite friends while cuddling up to your very own Hugsy? Can this BE any more exciting? We don't think so.