Friends is officially leaving Netflix, and can we BE any more disappointed?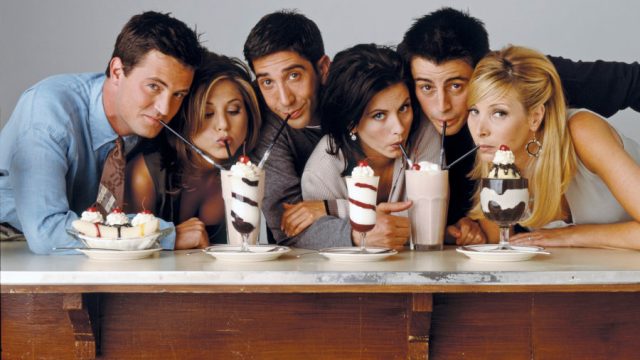 Update, July 10th, 2019: Yesterday, June 9th, Netflix announced in a tweet that Friends will be leaving the streaming service in 2020. The sitcom will be moving to Warner's streaming service.
"The One Where We Have To Say Goodbye," Netflix wrote. "We're sorry to see Friends go to Warner's streaming service at the beginning of 2020 (in the US). Thanks for the memories, gang."
According to Variety, Warner's streaming service will be called HBO Max and will launch in the spring of 2020. All 236 episodes of Friends will be available on the service when it launches. Warner has yet to announce how much HBO Max will cost.
Originally story follows.
Following The One Where We Thought Friends Would Be Leaving Netflix, it turns out our favorite group of pals isn't leaving the streaming service any time soon. Earlier today, news broke that Friends would be leaving Netflix—the only place where you can currently stream the show—after fans noticed a January 1st, 2019 expiration date on the series' Netflix page, causing collective panic everywhere. But in a new tweet, Netflix has dispelled all rumors in the best way possible.
Netflix took to Twitter on December 3rd and wrote, "The Holiday Armadillo has granted your wish: 'Friends' will still be there for you in the U.S. throughout 2019."
Ross Geller would so approve of this messaging. As The Hollywood Reporter notes, the comedy series is likely to move to Warner Bros.' parent company WarnerMedia's forthcoming streaming platform in 2020.
According to a New York Times report, Netflix is spending $100 million to keep Friends streaming through 2019. Ouch! That's way more than the $30 million per year Netflix has been spending to host the series since it joined the streaming service in 2015.
Friends is a comedy series that follows six friends dealing with the trials and tribulations of love and life in New York City. The series ran from 1994 through 2004, and arrived on Netflix in 2015. It stars Jennifer Aniston, Courteney Cox, Lisa Kudrow, Matthew Perry, Matt LeBlanc, and David Schwimmer.
We'll be celebrating this news over some coffee at Central Perk.
This article has been updated to reflect Netflix's spend on Friends.