The biggest Friends pop-up yet is coming to New York City, and you can recreate the "pivot" scene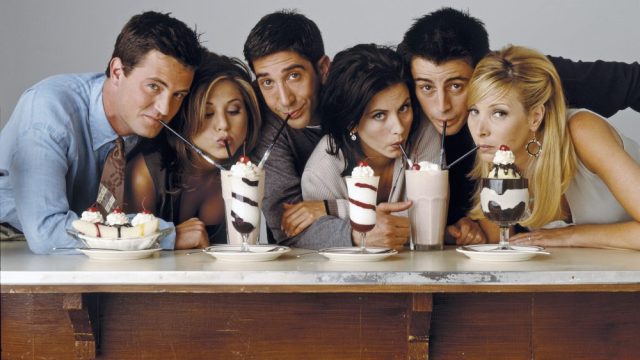 September 2019 marks 25 years since Friends premiered, and fans have been celebrating all year long. British fans of the series were treated to a pop-up Central Perk Café in June. The Coffee Bean and Tea Leaf is offering Friends-inspired drinks starting on July 31st. And in case you want to celebrate even more, the ultimate pop-up Friends experience is coming to New York City this fall.
The nostalgia-filled exhibition will run from September 7th through October 6th.
The description of the space sounds like every Friends super fan's dream come true: It'll feature numerous props, costumes, and set pieces from the show. Visitors can help Ross "pivot" a sofa, wear a turkey on their heads, learn how to clean like Monica, and visit Central Perk—orange couch included. Rachel and Monica's purple door and Joey and Chandler's BarcaLoungers will also be there.
"It's been nearly 25 years since Friends premiered, but the fascination and universal appeal of the hit TV series lives on with fans of all ages," Peter van Roden, senior vice president of global themed entertainment for Warner Bros. Consumer Products, said in a statement, E! Online reports. "As we celebrate the show's milestone anniversary, we are excited to bring the Friends experience to life for our fans in a way that pays homage to the remarkable cast of characters, iconic sets and instantly quotable moments."
Jonathan Mayers, the co-founder of Superfly, added that the pop-up was the show's "biggest immersive experience to date."
"The Friends New York City Pop-Up captures the series most memorable moments with the characters, memorabilia, set re-creations and exclusive merchandise."
If you need us, we'll be pivoting our September plans to visit this pop-up. But even if we can't make it, at least we still have a few more months of Friends on Netflix. You can buy your ticket online for $29.50 starting on August 2nd at 10 p.m. ET.