Today's the last day Friends is on Netflix, and could there BE a better way to spend New Year's Eve?
Update, December 31st, 9:30 a.m.: Pull up Rosita to watch Stevie the TV, because today is the final day you can binge-watch Friends on Netflix. Once the ball drops into January 2020, the iconic sitcom will be removed from the streaming service—and won't be included with any other streaming subscription until May 2020 when it joins the upcoming HBO Max.
If you need us, we'll be watching some of our favorite episodes—"The One with the Embryos" and "The One Where No One's Ready," for starters—before we have to take a Friends hiatus. (Unless we can find that DVD player!)
Original post, December 3rd: It's official: We have less than a month to binge-watch all of our favorite Friends episodes before the sitcom leaves Netflix for good in January. According to the Friends Netflix page, as of January 1st, the show will be booted off the streaming site as it prepares to migrate to HBO's new streaming platform, HBO Max.
Although we've were warned that Friends would leave Netflix back in 2018, we never thought the day would actually come. We thought that, somehow, Netflix would work out a deal with HBO where they could maybe share custody, or Friends could stay with Netflix and visit HBO on the weekends. But, alas, no such deal was worked out, and Friends is officially moving out of town.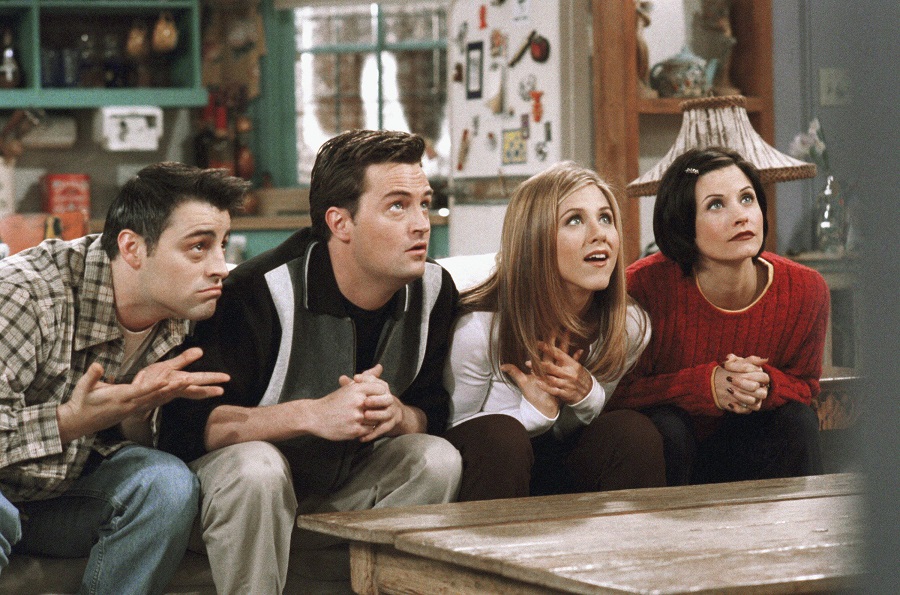 Luckily, our favorite friend group will remain on our go-to streaming site throughout the holidays, as was mentioned by the Netflix Twitter account back in December 2018. Will we be more emotional than normal while watching Ross don that Holiday Armadillo costume? Absolutely. And will we be sobbing while applauding Monica and Ross during their New Year's Eve dance routine in "The One With The Routine?" You bet your butt we will be.
It's unclear when HBO Max will go live, which means this month may be the last chance we get to watch Friends for a large chunk of time.
But HBO promises it will get its platform up and running so it can air "the phenomenon that is Friends," as WarnerMedia Entertainment and direct-to-consumer chairman Robert Greenblatt said per Glamour in July.
Hopefully, you got your Friends Thanksgiving episodes in while basting your turkey and baking your pies during the days leading up to Thanksgiving. But there are still so many classics (besides the holiday episodes) to get in before the show goes on hiatus.
For example, "The One With The Girl From Poughkeepsie," in which Monica hires Joey at her restaurant in order to fire him to assert authority, but when she does, he refuses to leave, is classic Joey at his best. And "The One With Ross' Wedding" is a massive turning point for the show, when Ross utters the now infamous line, "I Ross, take thee, Rachel."
And obviously, we all need to watch "The One With The Cop" so we can hear Ross screech "PIVOT" over and over again.
Please, no one disturb us during the entire month of December. We have a lot of Friends to binge-watch.