"Friends" is getting a book set for its 25th birthday, and we couldn't BE more excited
They said, "I'll be there for you," and it turns out that almost 25 years later, they weren't wrong. That's right, it's been 23 years since Friends first took to Central Perk. And for the upcoming 25th birthday of the comedy's premiere date, they'll be getting a book set!
It's hard to believe that we're approaching 25 years since Rachel, Monica, Phoebe, Ross, Chandler, and Joey first graced our TV screens and changed our lives forever. And that's not being dramatic at all because it's true. Friends is a show that has lived on in syndication (and on Netflix), solidifying its place in pop culture history. And we're so excited that we're getting a book set to celebrate it all.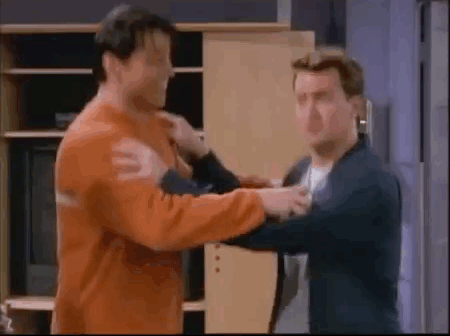 (Do you think it will include the trivia questions from the one where Rachel and Monica lose their apartment? There are so many directions this could go!)
According to The Hollywood Reporter, the 25th-anniversary book set will feature "a look at the origins of the show" and "the numerous high-profile guest stars." Not to mention hairstyles like "The Rachel" and how Friends has endured since it went off the air in 2004.
With NBC trying to reboot their most successful shows (like another huge comedy, Will & Grace), we'll be shocked if they don't try to bring Friends back (in some form) at some point in the future. In the meantime, we'll get excited about how we're going to celebrate the 25th anniversary. Could we BE any more excited?