Frida, our favorite rescue dog, has been immortalized as a piñata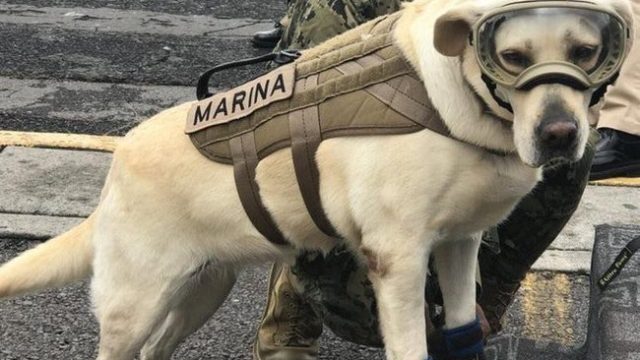 Dogs are a woman's best friend for a reason. With their loyal spirits and cute furry bodies, it's no wonder that we love our four-legged friends so much. Just last week, we shared a story about one of our current favorite canine companions who goes by the name of Frida — yes, like the artist. As the star of the Mexican navy's canine unit, Frida has rescued and retrieved over 50 bodies over the course of her career. And now, the 7-year-old golden retriever is having her hard work recognized in a new way. Specifically, Frida is being immortalized as a piñata, and we need her for our next party.
This isn't just your typical party piñata — this is a piñata with soul.
Piñateria Ramirez is the company behind this loving tribute to Frida, and they've made her look even cuter than we thought possible. They included the pup in all her rescue gear: goggles, boots, vest, and the works. In the Facebook post accompanying the reveal, the brand says,
"Our homage to man's best friend... #graciasfrida... and all of the Mexican paw patrol. Viva Mexico."
This rendition of Frida is just too sweet. They even nailed her majestic golden fur! Our only problem with this tribute? We wouldn't even want to hit it with a bat! If we were the proud owners of this piñata, we would probably just keep it in our living room, talking to it whenever we need some extra motivation to get through the lows of life.
After all, if there's one dog who can teach us about resilience, it's Frida!
Yes, this may be a piñata, but it's almost close enough to the real thing, right? Either way, we'll take it.