French manicures are back and—hear us out—they're actually really cool now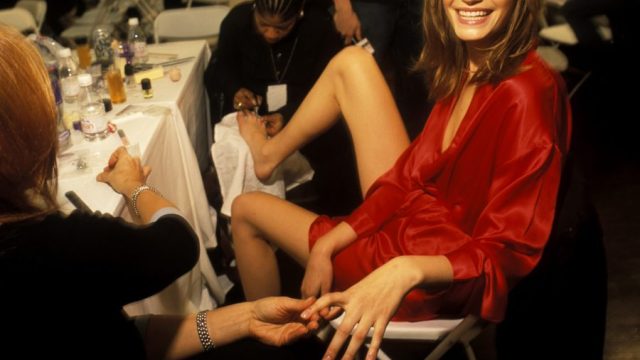 Okay look, we don't expect this to be an easy sell, but we're just going to go ahead and say it: French manicures are back, and they're totally cool now. A far cry from the short, square French tips of our adolescence, the updated version is totally modern and chic, thanks to a few not-so-minor updates.
First, the shape and length. Rather than short, square or "squoval" (remember that term?) nails, today's French manicures are more about a long and shapely length. Whether your preferred shape is almond or coffin, this look can work for you.
Second, and this is important, the white tips of this modern French manicure are thicker, sometimes extending all the way down to the halfway point of your nails. They also may have a curve to them that follows the natural shape of the nail. No straight, thin lines to be found here.
Still not convinced? We've scoured Instagram for some of the most modern French manicures you've ever seen, courtesy of expert nail artists and your favorite celebs (Bella Hadid, Ariana Grande, and Beyoncé are fans). Below, all of the French tips inspo you'll ever need.
https://www.instagram.com/p/BwHW1l0h24o
The length and shape is what makes this French manicure so modern.
https://www.instagram.com/p/B02wLE1BfE7
Even supermodels are into the modern French.
https://www.instagram.com/p/BtWhyzjBU16
A tiny, unexpected touch of black makes a French mani even cooler.
https://www.instagram.com/p/Bz_Ou8sFziJ
Unlike the thin, straight white polish of the past, today's French manicures curve and extend halfway down the nail.
https://www.instagram.com/p/B06D1FQlLPY
The queen of nail trends updates her French manicure with lipstick-shaped nails.
https://www.instagram.com/p/B0meKBNAXA_
Bella Hadid has made French tips her go-to this summer.
https://www.instagram.com/p/B04w78HnEnR
If it's good enough for Beyoncé…