Freeform's 25 Days of Christmas schedule is here, aka the holiday season has officially commenced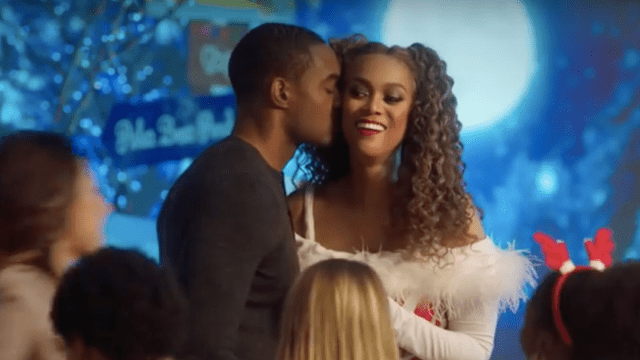 Thanksgiving may have technically kicked off the 2018 holiday season, but we don't officially recognize the holidays until Freeform says so, and by that we mean when Freeform's 25 Days of Christmas 2018 schedule is announced. The annual television event begins on Saturday, December 1st and ends on Tuesday, December 25th, 2018, and this year, the 25 days of non-stop Christmas and holiday movies include two original films: Life-Size 2: A Christmas Eve and No Sleep 'Til Christmas.
Life-Size 2: A Christmas Eve is the follow-up to the 2000 made-for-TV movie starring Tyra Banks and Lindsay Lohan. Francia Raisa stars in the sequel as the young CEO of Marathon Toys, famous for manufacturing the iconic Eve doll, in the throes of a quarter-life crisis. Banks will reprise her role as Eve. No Sleep 'Til Christmas stars real-life married couple Dave and Odette Anable as two insomniacs who learn they can only fall asleep when they're next to each other.
In case you're running out of Netflix/Hallmark/Lifetime holiday movies, cozy up with Freeform because they've got you covered.
Saturday, December 1st
7 a.m. Santa Paws 2: The Santa Pups
9:05 a.m. Home Alone 3
11:15 a.m. The Wonderful World of Disney: Magical Holiday Celebration
1:15 p.m. Richie Rich's Christmas Wish
3:20 p.m. Christmas with the Kranks
5:25 p.m. The Santa Clause 3: The Escape Clause
7:35 p.m. The Nightmare Before Christmas
9:15 p.m. Dr. Seuss' How the Grinch Stole Christmas
11:55 p.m. Life-Size
Sunday, December 2nd
7 a.m. Home Alone 3
9 a.m. Eight Crazy Nights
11 a.m. Richie Rich's Christmas Wish
1:05 p.m. Mickey's Once Upon a Christmas
2:35 p.m. Life-Size
4:40 p.m. The Nightmare Before Christmas
6:20 p.m. Dr. Seuss' How the Grinch Stole Christmas
9 p.m. Life-Size 2: A Christmas Eve
11 p.m. The Holiday
Monday, December 3rd
7 a.m. Mickey's Once Upon a Christmas
8:30 a.m. Winnie the Pooh and Christmas Too
9 a.m. The Little Drummer Boy (1968)
11 a.m. Decorating Disney: Holiday Magic
12 p.m. The Truth About Christmas
2:10 p.m. The Holiday
5:25 p.m. Life-Size 2: A Christmas Eve
7:25 p.m. The Santa Clause
9:30 p.m. Pop Up Santa Holiday Special
12 a.m. The Family Stone
Tuesday, December 4th
7 a.m. Decorating Disney: Holiday Magic
8 a.m. Pop Up Santa Holiday Special
11:30 a.m. Love the Coopers
2:05 p.m. The Family Stone
4:10 p.m. This Christmas
6:50 p.m. The Santa Clause
8:55 p.m. The Santa Clause 3: The Escape Clause
12 a.m. Home Alone 3
Wednesday, December 5th
7 a.m. I'll Be Home for Christmas (1998)
9 a.m. Mickey's Christmas Carol
11 a.m. Disney's Fairy Tale Weddings: Holiday Magic
12 p.m. Home Alone 3
2 p.m. Richie Rich's Christmas Wish
4:05 p.m. Santa Claus Is Comin' to Town
5:10 p.m. The Nightmare Before Christmas
6:50 p.m. The Santa Clause 3: The Escape Clause
8:55 p.m. Christmas with the Kranks
12 a.m. I'll Be Home for Christmas (1998)
Thursday, December 6th
7 a.m. Mickey's Christmas Carol
7:30 a.m. Santa Paws 2: The Santa Pups
12 p.m. Richie Rich's Christmas Wish
2:05 p.m. Santa Claus Is Comin' to Town
3:10 p.m. The Nightmare Before Christmas
4:50 p.m. Christmas with the Kranks
6:55 p.m. Disney Pixar's Toy Story
8:55 p.m. Disney Pixar's Toy Story 2
12 a.m. Call Me Claus
Friday, December 7th
7:30 a.m. Jingle All the Way 2
11 a.m. Call Me Claus
1:10 p.m. Unaccompanied Minors
3:15 p.m. Disney Pixar's Toy Story
5:15 p.m. Disney Pixar's Toy Story 2
7:20 p.m. Disney Pixar's Toy Story 3
9:50 p.m. Disney's A Christmas Carol
11:55 p.m. A Belle for Christmas
Saturday, December 8th
7a.m. The Little Drummer Boy (1968)
7:30 a.m. Winnie the Pooh and Christmas Too
8 a.m. A Belle for Christmas
10:10 a.m. Unaccompanied Minors
12:15 p.m. Deck the Halls
2:20 p.m. Disney's A Christmas Carol
4:25 p.m. Santa Claus Is Comin' to Town
5:30 p.m. Disney Pixar's Toy Story 3
8 p.m. Disney's Fairy Tale Weddings: Holiday Magic
9 p.m. The Santa Clause
11 p.m. The Santa Clause 3: The Escape Clause
1 a.m. Disney's Fairy Tale Weddings: Holiday Magic
Sunday, December 9th
7 a.m. Winnie the Pooh and Christmas Too
7:30 a.m. Deck the Halls
9:30 a.m. Santa Claus Is Comin' to Town
10:35 a.m. Life-Size
12:40 p.m. Life-Size 2: A Christmas Eve
2:45 p.m. Christmas with the Kranks
4:50 p.m. The Santa Clause
6:55 p.m. The Santa Clause 3: The Escape Clause
9 p.m. Dr. Seuss' How the Grinch Stole Christmas
11:35 p.m. Love the Coopers
Monday, December 10th
7 a.m. This Christmas
11 a.m. Disney's Fairy Tale Weddings: Holiday Magic
12 p.m. Love the Coopers
2:35 p.m. Richie Rich's Christmas Wish
4:40 p.m. The Nightmare Before Christmas
6:20 p.m. Dr. Seuss' How the Grinch Stole Christmas
9 p.m. No Sleep 'Til Christmas
12 a.m. Holiday in Handcuffs
Tuesday, December 11th
7 a.m. Winnie the Pooh and Christmas Too
7:30 a.m. Unaccompanied Minors
11 a.m. Pop Up Santa Holiday Special
12:35 p.m. Richie Rich's Christmas Wish
2:40 p.m. The Nightmare Before Christmas
4:20 p.m. Jingle All the Way 2
6:25 p.m. Ice Age: Continental Drift
8:30 p.m. Disney Pixar's Finding Nemo
12 a.m. Beethoven's Christmas Adventure
Wednesday, December 12th
7 a.m. Beethoven's Christmas Adventure
11:30 a.m. Jingle All the Way 2
1:30 p.m. Mickey's Once Upon a Christmas
3 p.m. Mickey's Twice Upon a Christmas
4:30 p.m. Ice Age: Continental Drift
6:30 p.m. Disney Pixar's Finding Nemo
9 p.m. Disney's A Christmas Carol
12 a.m. Call Me Claus
Thursday, December 13th
7 a.m. Call Me Claus
11 a.m. No Sleep 'Til Christmas
1:05 p.m. This Christmas
3:40 p.m. Holiday in Handcuffs
5:45 p.m. The Holiday
8:55 p.m. The Santa Clause
12 a.m. Deck the Halls
Friday, December 14th
7 a.m. The Family Stone
11 a.m. Angels Sing
1:05 p.m. The Mistle-tones
3:10 p.m. Christmas with the Kranks
5:15 p.m. Deck the Halls
7:20 p.m. The Santa Clause
9:25 p.m. The Santa Clause 3: The Escape Clause
11:30 p.m. The Family Stone
Saturday, December 15th
7 a.m. Mickey's Christmas Carol
7:30 a.m. Mickey's Once Upon a Christmas
9 a.m. Mickey's Twice Upon a Christmas
10:30 a.m. Christmas with the Kranks
12:35 p.m. The Santa Clause 3: The Escape Clause
2:40 p.m. Disney Pixar's Toy Story
4:40 p.m. Disney Pixar's Toy Story 2
6:45 p.m. Disney Pixar's Toy Story 3
9:15 p.m. Dr. Seuss' How the Grinch Stole Christmas
11:55 p.m. Life-Size 2: A Christmas Eve
Sunday, December 16th
7 a.m. A Belle for Christmas
9 a.m. Jingle All the Way 2
11 a.m. Santa Claus Is Comin' to Town
12 p.m. Disney Pixar's Toy Story
2 p.m. Disney Pixar's Toy Story 2
4:05 p.m. Disney Pixar's Toy Story 3
6:35 p.m. Dr. Seuss' How the Grinch Stole Christmas
9:15 p.m. Disney's A Christmas Carol
11:20 p.m. A Miracle on Christmas Lake
Monday, December 17th
7 a.m. Beethoven's Christmas Adventure
9 a.m. Angels Sing
11 a.m. Call Me Claus
1 p.m. Richie Rich's Christmas Wish
3:05 p.m. Deck the Halls
5:10 p.m. Disney's A Christmas Carol
7:15 p.m. The Nightmare Before Christmas
8:55 p.m. Paddington
12 a.m. Richie Rich's Christmas Wish
Tuesday, December 18th
7 a.m. The Little Drummer Boy (1968)
7:30 a.m. Mickey's Christmas Carol
8 a.m. Call Me Claus
10 a.m. The Nightmare Before Christmas
11:35 a.m. Paddington
1:35 p.m. Christmas with the Kranks
3:40 p.m. The Truth About Christmas
5:45 p.m. The Holiday
8:55 p.m. The Santa Clause
12 a.m. 12 Dates of Christmas
Wednesday, December 19th
7a.m. Snow
9a.m. Snow 2: Brain Freeze
11a.m. The Family Stone
1p.m. Disney's Fairy Tale Weddings: Holiday Magic
2p.m. The Holiday
5:05p.m. The Santa Clause
7:10p.m. The Santa Clause 3: The Escape Clause
9:15p.m. Disney Pixar's The Incredibles
11:55p.m. Life-Size
Thursday, December 20th
7 a.m. Pop Up Santa Holiday Special
8:30 a.m. Mickey's Once Upon a Christmas
10 a.m. Mickey's Twice Upon a Christmas
11:30 a.m. Life-Size
1:30 p.m. Life-Size 2: A Christmas Eve
3:30 p.m. The Santa Clause 3: The Escape Clause
5:35 p.m. Santa Claus Is Comin' to Town
6:40 p.m. Disney Pixar's The Incredibles
9:20 p.m. Ice Age: Continental Drift
11:25 p.m. Life-Size 2: A Christmas Eve
1:30 a.m. Mickey's Christmas Carol
Friday, December 21st
7 a.m. Mickey's Once Upon a Christmas
8:30 a.m. Mickey's Twice Upon a Christmas
10 a.m. The Doc McStuffins Christmas Special
10:30 a.m. Winnie the Pooh and Christmas Too
11 a.m. Mickey's Christmas Carol
11:30 a.m. Santa Claus Is Comin' to Town
12:30 p.m. Love the Coopers
3 p.m. Ice Age: Continental Drift
5:05 p.m. The Santa Clause
7:10 p.m. The Santa Clause 3: The Escape Clause
9:15 p.m. Dr. Seuss' How the Grinch Stole Christmas
11:55 p.m. No Sleep 'Til Christmas
Saturday, December 22nd
7 a.m. A Miracle on Christmas Lake
9:40 a.m. The Santa Clause
11:50 a.m. The Santa Clause 3: The Escape Clause
1:55 p.m. Disney Pixar's Toy Story That Time Forgot
2:25 p.m. Disney's Prep & Landing
2:55 p.m. Disney's Prep & Landing: Naughty vs. Nice
3:25 p.m. The Nightmare Before Christmas
5:05 p.m. Dr. Seuss' How the Grinch Stole Christmas
7:45 p.m. The Santa Clause
9:50 p.m. The Santa Clause 3: The Escape Clause
11:55 p.m. Christmas with the Kranks
Sunday, December 23rd
7 a.m. The Little Drummer Boy (1968)
7:30 a.m. Beethoven's Christmas Adventure
9:40 a.m. Richie Rich's Christmas Wish
11:45 a.m. Disney Pixar's Toy Story That Time Forgot
12:15 p.m. Santa Claus Is Comin' to Town
1:20 p.m. The Nightmare Before Christmas
3 p.m. Christmas with the Kranks
5:05 p.m. The Santa Clause
7:10 p.m. The Santa Clause 3: The Escape Clause
9:15 p.m. Dr. Seuss' How the Grinch Stole Christmas
11:55 p.m. Life-Size 2: A Christmas Eve
Monday, December 24th
7:30 a.m. Richie Rich's Christmas Wish
11 a.m. Mickey's Twice Upon a Christmas
12:30 p.m. The Nightmare Before Christmas
2:05 p.m. Jingle All the Way 2
4:10 p.m. Disney's A Christmas Carol
6:15 p.m. Dr. Seuss' How the Grinch Stole Christmas
8:55 p.m. The Santa Clause
12 a.m. The Santa Clause 3: The Escape Clause
Tuesday, December 25th
7 a.m. Disney's Prep & Landing
7:30 a.m. Disney's Prep & Landing: Naughty vs. Nice
8 a.m. Mickey's Twice Upon a Christmas
11 a.m. The Nightmare Before Christmas
12:40 p.m. Disney's A Christmas Carol
2:40 p.m. Christmas with the Kranks
4:45 p.m. The Santa Clause
6:50 p.m. The Santa Clause 3: The Escape Clause
8:55 p.m. Disney's The Lion King (1994)
12 a.m. Disney's The Lion King II: Simba's Pride