Here's how to get a free Wetzel's Pretzel today, so you can feel like a teen mallrat all over again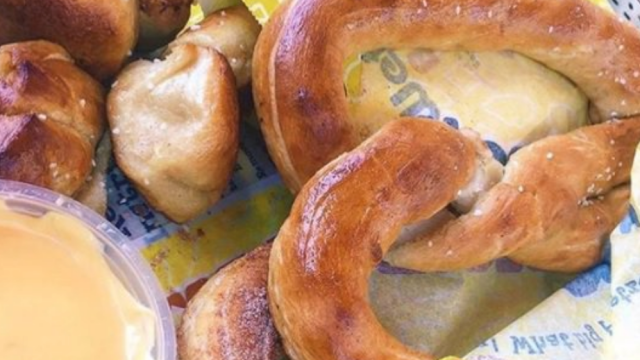 Good news for all you pretzel lovers out there: This Thursday, April 26th, is National Pretzel Day, and scoring a free pretzel at your local mall is easier than ever. Wetzel's Pretzels is giving away one free original pretzel to every customer to celebrate the holiday, so if you love free food, you're in luck.
According to a press release from the company, all 340 locations across the country will be participating, and all you have to do is show up. Last year, they gave away more than 40,000 pretzels, so why not go grab your cut of this sweet deal?
Bonus: If you go get your free pretzel, follow Wetzel's on Instagram, and tag a pic of your snack with #nationalwetzelday, you'll get a code on their app for another free pretzel that's good through May 31st.
That's a pretty good arrangement, considering most of us were probably going to share our free pretzels on IG anyway.
"Our pretzels are made from simple ingredients, like flour, yeast, and a pinch of salt, and we think getting a free pretzel on National Pretzel Day should be equally as simple," Wetzel's President Jennifer Schuler said in the release. "Our team is committed to keeping the day fun and free, offering free pretzels to all our customers, no strings attached."
You don't have to tell us twice.
Pro tip: this isn't the only day you can fill up on free pretzels. If you download the Wetzel's app, you get a free pretzel just for downloading, plus one on your birthday and after every six pretzel purchases. Clearly, we've all been paying way too much for pretzels.
Get ready for all that warm, pretzel-y goodness on Thursday — and yet another free pretzel in your future. What more could anyone ask for?