Here's how to get a free sandwich from Subway on Valentine's Day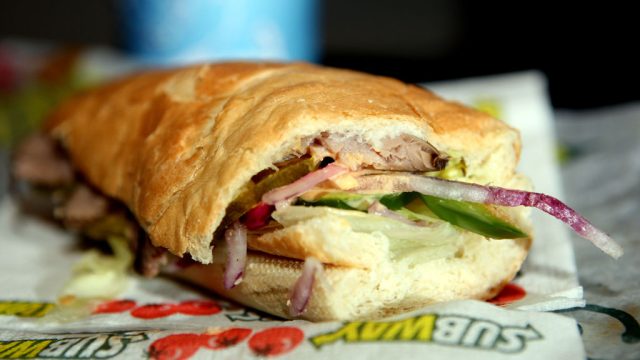 Valentine's Day is a holiday that inspires both delight and resentment, but at least this year it brings a peace offering that everyone will love: free Subway sandwiches.
On February 14th, Subway will be celebrating ~true love~ by giving away free six-inch sub sandwiches all day. The chain will be operating on a buy-one-get-one basis, offering free sandwiches of equal or lesser value from 11 a.m. to 7 p.m. in select locations in the U.K. (Sorry, everyone who doesn't live in the U.K.)
There are a few rules. Customers can only use the offer for one guest per visit, so don't plan to buy sandwiches for your entire office (at least, not without various disguises). Also, it doesn't apply to sandwiches with double meet or extra cheese. There is a silver lining, though: According to The Sun, the chain will also be distributing vouchers for future freebies — including a free mega melt breakfast sub and a free upgrade to a footlong sub from a six-inch sub.
Admittedly, getting Subway in lieu Valentine's Day dinner may be a risky move for most people (unless, of course, you're dating Joey from Friends), so we can't say we totally recommend it. Still, a free sub could be the perfect way to surprise your S.O. at lunch, treat your work wife, or shower your galentines with much-deserved love.
Of course, for single people out there, buying one sandwich for now and another for later is more than practical in this scenario (after all, Meghan Markle did say you should be your own Valentine, and who are we to argue with royalty?)
Check out all of the participating locations here!