ICYMI: You can get a free Little Caesars personal pizza today, and here's how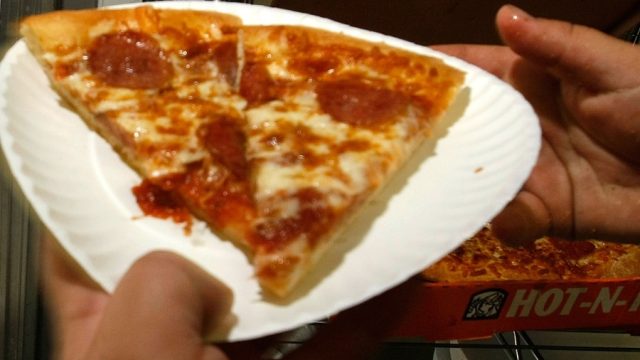 Free food? Good. Free Little Caesars pizza? Best. And that's exactly what's happening today, April 2nd, because UMBC beat Virginia in the men's NCAA tournament. In case you missed it, Little Caesars said it would offer a free lunch combo "if crazy happened" (which it did), and here's how you can cash in on the delicious deal.
The deal will only take place today, April 2nd, between set hours. So you might want to start scouting Little Caesars locations near you. The deal is taking place between the standard lunchtime hours of 11:30 a.m. and 1:00 p.m. local time, or while supplies last. An order can't take place after 1 p.m., or you'll have to pay in full. And while pizza is pizza, free pizza can't be beat.
In case you haven't been to Little Caesars in awhile, here's what the combo includes: One 4-piece personal pizza with pepperoni and a 20 oz Pepsi product.
According to the ad, the combo usually goes for $5. Your free lunch also can't be ordered online or delivered  — you have to show up in person.
Those who work for Little Caesars, or who are related to someone who works for Little Caesars, sadly aren't able to participate in the big event per company rules. While the company website states that the promotion is happening in Little Caesars locations in all 50 states, it also suggests calling your local Little Caesars ahead of time just to make sure.
Since timing is everything, you'll want to make sure you get in line ASAP. Free Little Caesars pizza is worth it.