How to get free IHOP pancakes for a year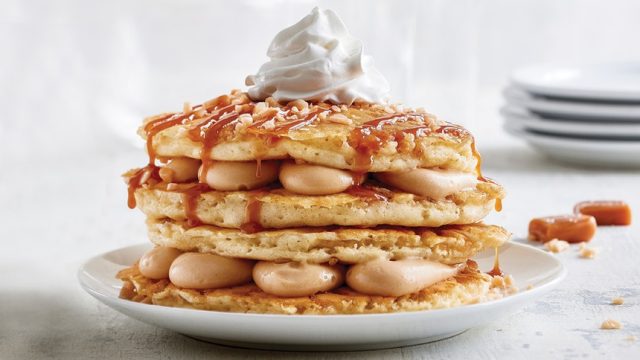 The only thing better than a stack of pancakes doused in syrup is a stack of FREE pancakes doused in syrup. As you've been spending your days wondering how to get a year's worth of free IHOP pancakes, the brand just introduced a promotion that'll make your dreams a reality.
In order to redeem your free IHOP pancakes, all you have to do is, uh, eat pancakes.
Earlier this month, IHOP added three new, insane pancake flavors to its menu to celebrate its 60th anniversary. And since the chain's acronym translates to "International House of Pancakes," they dubbed the new lineup the "International Pancake" menu, to highlight each flavor being inspired by international cuisines. The flavors include: English Sticky Toffee, Mexican Tres Leches, and Belgian Dark Chocolate Mousse pancakes.
To promote the new trio, IHOP introduced the International Passport Challenge. Customers hoping to participate can simply order each of the new flavors — think of it as a passport stamp, if you will — at a participating location from now until June 10th. To win the grand prize, all participants will have to download the IHOP mobile app and upload a photo of each globally-inspired flavor. It's that simple.
All three pancake flavors have their own unique (and delicious) flair to them. English Sticky Toffee will see a classic buttermilk stack filled with crunchy English toffee and layered with salted toffee mousse. Tres Leches will mimic the traditional cake soaked in three milks that it's named after. The pancakes are then layered and topped with creamy vanilla sauce and drizzled with Dulce de Leche. Lastly, Belgian Dark Chocolate will feature four chocolate pancakes filled with chocolate chips and layered with a Belgian dark chocolate mousse. In case your teeth don't already hurt just thinking about them, those pancakes are then topped with even more chocolate chips and mousse.
A contest winner will be chosen on June 14th, 2018. An overall winner will be selected at random, and that person will be rewarded with a year of free breakfast. Other customers have a shot at receiving a $25 gift card, which will be given out weekly until the contest ends.