We talked with Freddie Prinze Jr. and he gave us the scoop on his cookbook and why you won't see him in any '90s movie reboots
Full disclosure: In my fifth grade journal, I wrote that I would someday work at Blockbuster, where I'd meet and fall in love with Freddie Prinze Jr. We'd move to France together, where he'd continue to act and I'd write children's books, and we'd have two kids before he retired from acting.
My AOL screen name was FreddieGal10, and I religiously saw all of his movies in the theater, swooning with every moment of screen time he blessed me with.
So when I was invited to see Freddie cook a recipe from his first-ever cookbook, you'd better believe I jumped at the opportunity to interview him and perhaps even tell him about the many hearts he occupied in my journal back then.
Spoiler alert: Freddie Prinze Jr. is still as charming, funny, and sweet as he seemed back then, and getting the chance to talk to him about some of the many projects he's passionate about these days is something my 10-year-old self will never forget.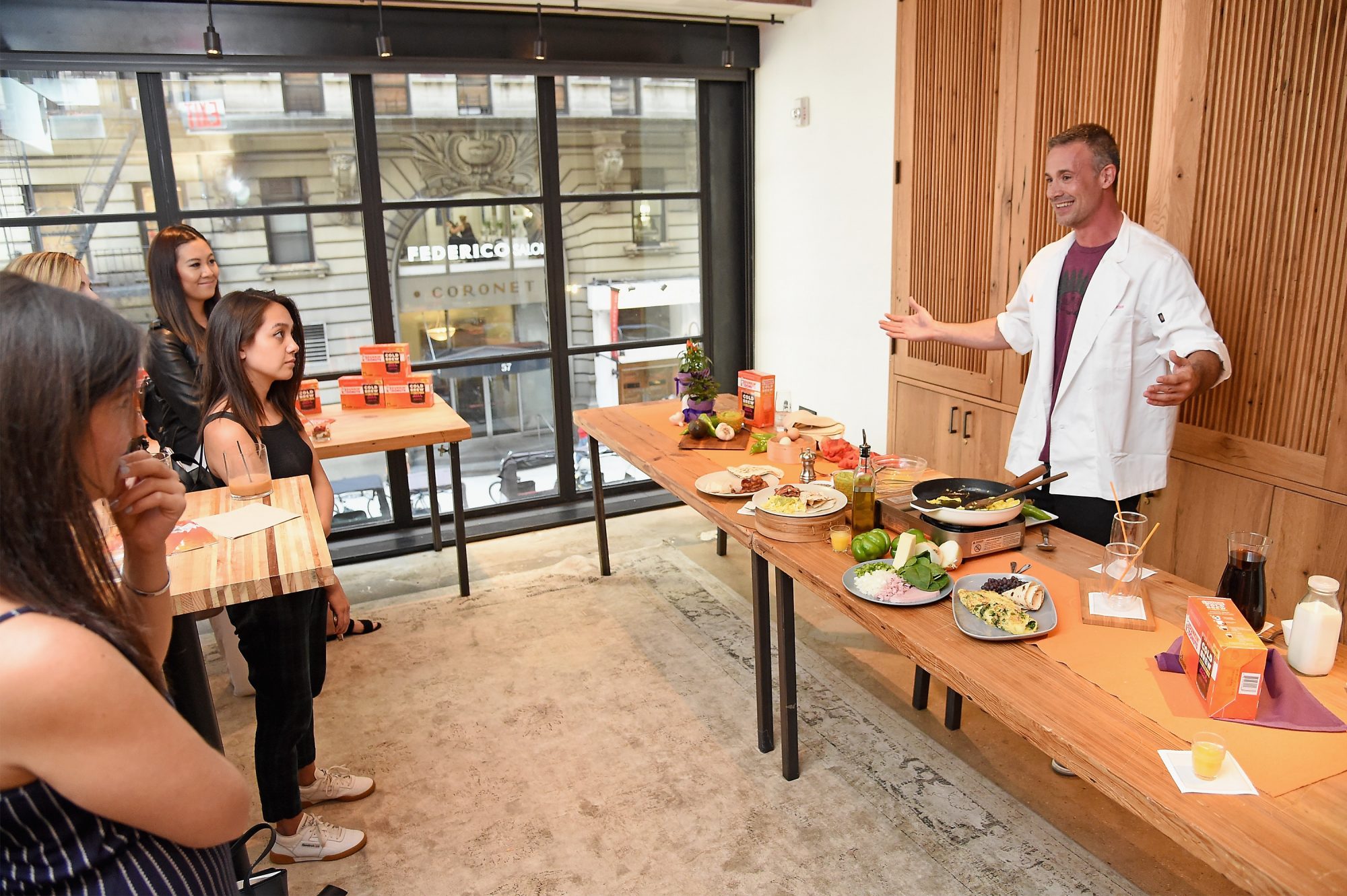 Freddie was in New York City at 1 Hotel Central Park to promote his cookbook Back to the Kitchen and introduce Dunkin Donuts' new Cold Brew Coffee Packs, proving that cooking wholesome, delicious meals and getting your java on is possible, no matter how busy you are.
'90s babes will probably remember Freddie from his roles in movies like She's All That and I Know What You Did Last Summer (and its sequel!), but Freddie has been busy diving into his other passions since his teen heartthrob days, and I got the scoop on his life now. Be prepared: You'll probably swoon at the way he describes his relationship with his wife, Sarah Michelle Gellar, and their two children, Charlotte and Rocky.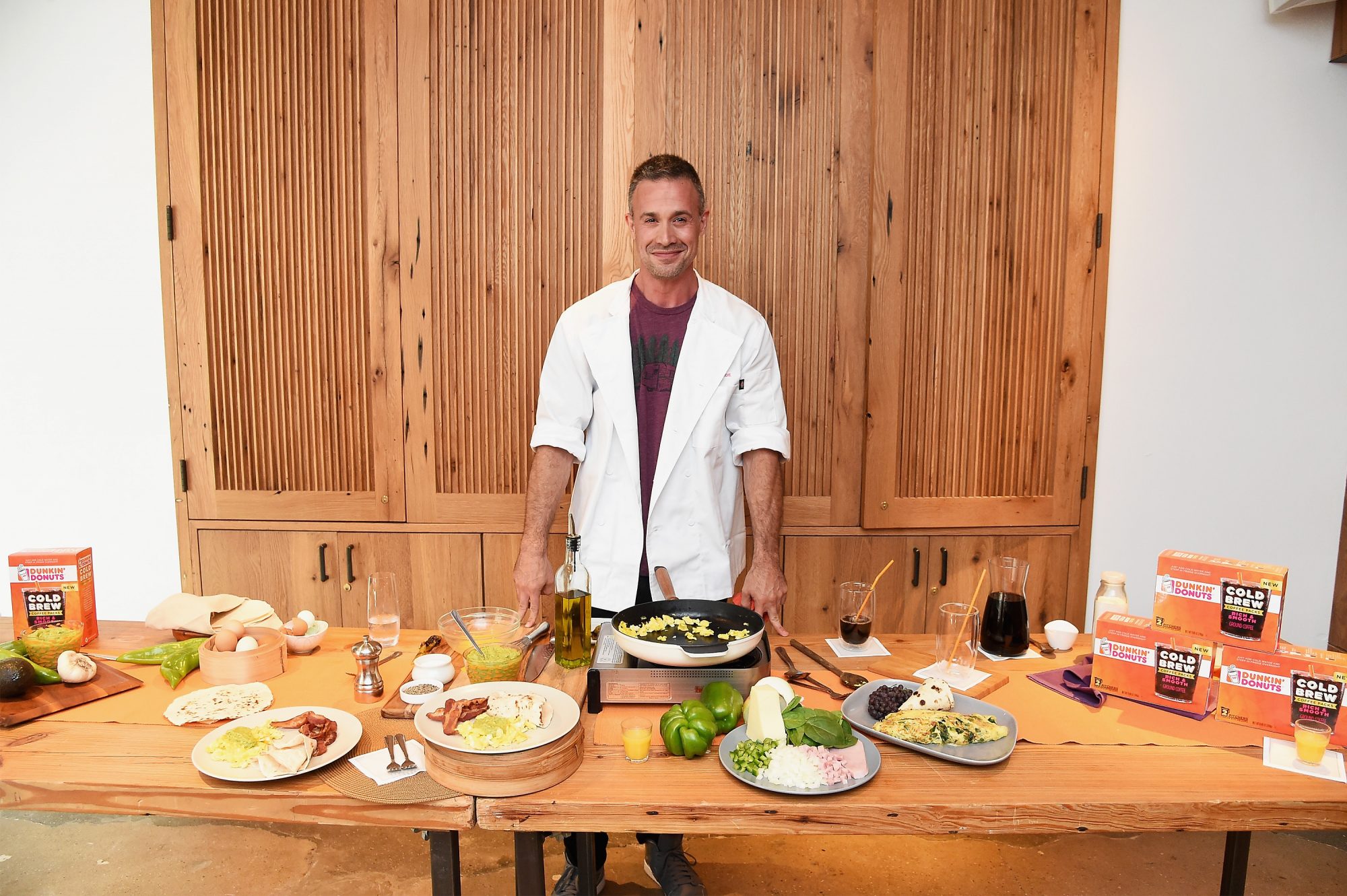 Freddie says he's had a love of cooking since childhood, so the cookbook came as a natural progression from that passion. Paired with his wife's passion for baking (her DIY baking company, Foodstirs, provides ingredients and recipes for "clean, organic, ethical ingredients" to make baking fun for parents and kids alike), it's clear that food is serious business in the Prinze household.
HelloGiggles (HG): What does a typical night in the Prinze household look like?
Freddie Prinze Jr. (FPJ): We start around 3 or 4 p.m. depending on what we're making, and that's for the baking. My wife does all the baking in our house. I had to bake for HomeTown Buffet when I was 15 or 16. I worked the graveyard shift, so from 11 p.m. to  6 a.m., I would bake all their desserts…so I don't enjoy baking. Never again, to be completely honest with you. And with my wife's company [Foodstirs], you can pronounce every word [to every ingredient in the recipes], so I always thought that was very cool, and very important. I'm so California, and I want things to be organic and natural whenever they can be…We get a lot of opportunities for that in SoCal because of the weather.
Dinner's at five for the kiddos if we all eat together. If it's just my wife and I, we're eating around seven or eight after the kids go down.
HG: What's your favorite dish to cook?
FPJ: Steak. Once you figure out how to make a great steak, where it's not just you who likes it, but other people say it tastes like a restaurant's steak. Once you figure that out — your rub is your rub, your cooking technique is your technique —  once I figured that out, I started having people over for dinner and I wanted to impress them…there's a lot of stuff I can make because I've learned from so many great people, but steak is my go-to, because I can make it better than the steakhouses in L.A. When somebody tastes that and it's from home, that's a good feeling.
HG: Have you ever made something your kids didn't like?
FPJ: Sure, but they still had to eat it. They don't have any say. I had no say as a kid…what my mom cooked, I ate. And if I didn't, that was my breakfast the next day…There will be dinners [Rocky] does not want to eat, where he literally sees it and he says "Daddy, no," and I say, "you have two choices, brother: eat or don't."
And if you break once, your kids will know…My daughter chooses to put broccoli on her pizza. I don't tell her to. She can make linguine with steamed clams and mussels and loves it, because she didn't have any say when she was young. I say, if you don't want to eat the clams, you're not going to get the linguine. That's just the way it goes. You eat all of it or you eat none of it. Your mother worked hard on this meal, your father worked hard on this meal. And that was the rule in my house, so we're strict. People see me with my kids and say "man, you're hardcore," and I'll say, "it's not hardcore to me, it's just normal."
I'm not judging — people do what people do. As long as your kids are healthy and happy, then you got it right, and my kids are, so I'm not going to change.
HG: What advice would you give to someone who does not know how to cook at all?
FPJ: The easiest thing I can teach anyone is to learn how to cook by cooking everything on "low." If you cook [something] on "high," you're going to burn it when you're starting out. I know some people like to do everything on "high," but I do everything on "low," so that's my first thing. If you don't hear it sizzle, it's too low. But as long as it's sizzling, it's cooking, and you can keep your eyes on it, but it's much harder to make mistakes.
With baking, it's a lot harder because that's science. If you screw something up, it's toast. 
HG: Have you shown your children any of your movies?
FPJ: [They've seen] Scooby-Doo. Their friends had already seen it, and they were probably the last of all their friends to see it. Once they asked, "Hey, were you Fred on Scooby-Doo?" I [explained we] were in the movie [Freddie played Fred Jones and Sarah played Daphne Blake in the beloved live-action adaptation and its sequel] and they said "can we see it?" and we showed it to them. 
HG: Is there any one role that fans mention when they see you?
FPJ: If it's guys, it's Scooby. If it's girls, it's She's All That because you were all in love with me back then. *laughs*
HG: I must admit, I brought with me a journal entry from fifth grade where I wrote all about how we'd someday meet at Blockbuster and you'd fall in love with me on the spot.
FPJ: Blockbuster ruined your whole fantasy, so don't be mad at me. Be mad at them for going out of business.
I totally get it — [Growing up] I had posters of Cindy Crawford. I met her one time, and I was [married to] Sarah and we were happy, but she still freaked out when she saw Cindy and I walking towards each other to say "hello." She grabbed me pretty tightly and said, "This is my husband."
HG: How do you feel about the reboot rumors?
FPJ: I wouldn't be a part of it. I'm definitely done with that part of my career, but if they want to reintroduce it to a new generation, that's cool.
We're living in an era of the intellectual property, so there are not a lot of new ideas being produced. I assure you, they're being written, but writers can't sell them unless they've got a built-in audience. With studios, [it's become all about] marketing, marketing, marketing, so they dilute that pool even more and require a built-in audience. Like with the music industry, what's your Twitter following? Okay, we'll sign you. It's an interesting time [for the entertainment industry] right now.
I'm all for it, if that's the kind of art that studios want to make…I've heard about a reboot to She's All That. If they make it, it wouldn't be with me, and it's nothing against them. I am a full-time father, I live in L.A., and my work has me here. I won't leave my family.
You can order Freddie's cookbook Back to the Kitchen here, and you can Dunkin Donuts Cold Brew Coffee Packs here.