15 iconic mall punk looks from "Freaky Friday" on its 15th anniversary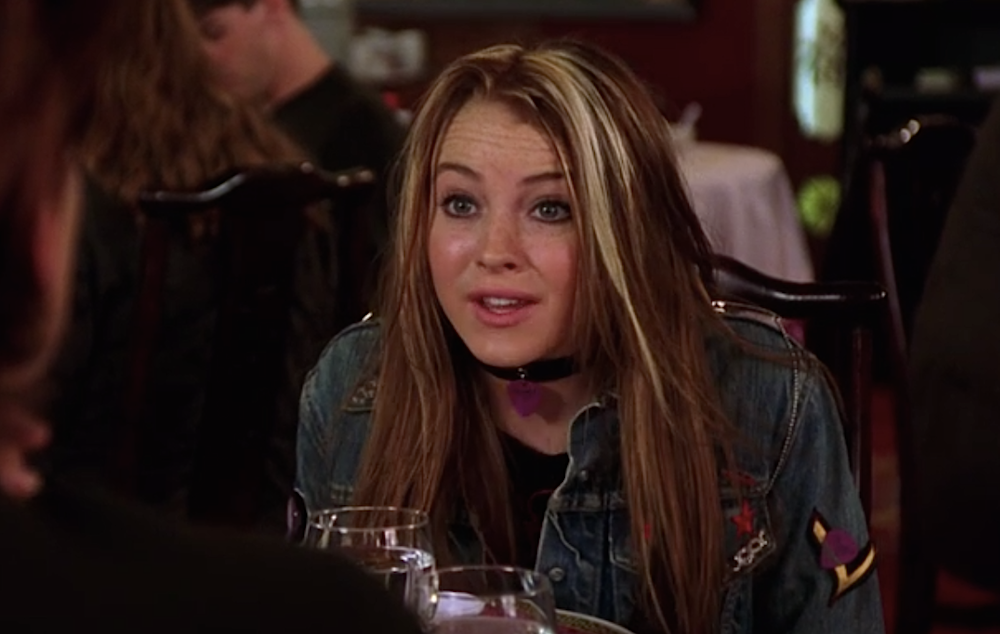 Believe it or not, we have arrived at the 15th anniversary of Lindsay Lohan's iconic film Freaky Friday. If you're feeling incredibly old upon reading that last sentence, you're definitely not alone. For many of us, that movie had it all.
We had Jamie Lee Curtis playing Tess, the ultimate upper-middle-class mom, a therapist-turned-author with a penchant for button-ups and psychoanalyzing her children (I forever stan Curtis in this movie). There was the classic Disney trope of the annoying younger brother who secretly looks up to his older sister—shoutout to Ryan Malgarini for truly capturing the sibling struggle. Of course, there's Mark Harmon as the casually sexy stepdad-to-be, and lest we forget, a grandpa character (Harold Gould) constantly referencing thongs, of all things.
But all of these fabulous characters are truly the backdrop for the focal point of this movie: Lohan as Anna, the ultimate angsty, suburban mall punk. When it comes to capturing the way the late '90s and early 2000s repackaged styles originated at DIY shows in the 1970s, Freaky Friday is on point. Anna has the full mall punk package: She's got the black jelly bracelets, the studded belt, denim jacket, thick, dyed streaks of hair, and a pristine garage to hold band practice with her equally decked-out friends.
If this were a movie about the actual punk scene, it would take place decades earlier and show runaways lined up outside Max's or CBGB on NYC's Lower East Side. There'd definitely be drug use,  sex work, and a few characters struggling with issues of poverty or closeted sexuality. There would be broken windows, Patti Smith poems, semi-indecipherable statements about the ways capitalism kills your spirit, and definitely a reference to Lester Bangs. But Freaky Friday wasn't that movie.
On top of the timeless shenanigans of body-swapping, Freaky Friday provided a surprisingly accurate window into the aesthetics of mall punk. It was a movie for all the kids who grew up during Green Day and Blink 182 and bought their first Ramones discographies at Hot Topic before going on to develop more nuanced taste. It's a movie racked with mall punk's very specific brand of privileged anger. Anna represents the irony of buying bags with anarchist symbols at the mall. She and her friends scream about the hypocrisy of adults while simultaneously relying on them for guitar lessons. I love it, for its playful accuracy.
In order to really show how Freaky Friday captures the mall punk aesthetic of the early 2000s, I have gathered 15 of the movie's looks for you to consider.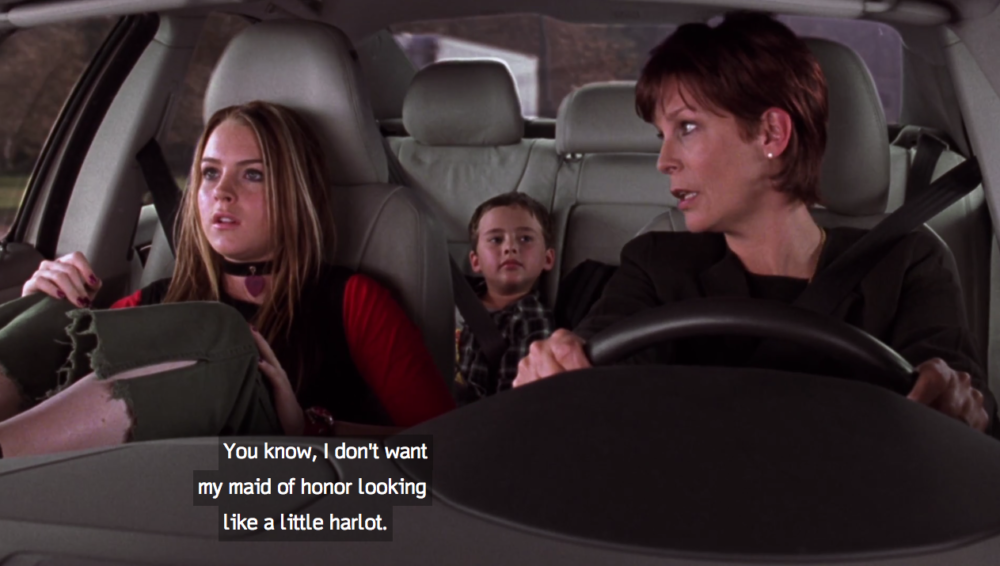 1This red and black three-quarter-sleeve T-shirt
This was a time when quarter-length-sleeves were ALL the rage. You could hit up any store and find everything from branded T-shirts to band tees in quarter-length-sleeves. If you were really risqué, you'd layer a short sleeve shirt on top. The true tastemakers layered a short sleeve, over a quarter-sleeve, over a long sleeve, like a Turducken of graphic T-shirts. Anna's opening look nails it.
2Anna's studded accessories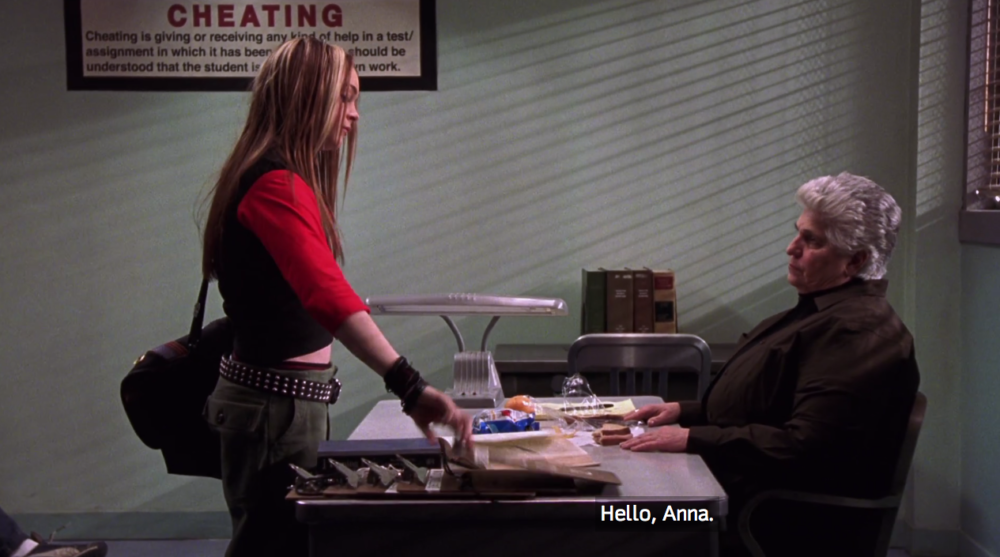 Listen, I realize this is still the opening outfit, but this movie takes place over the course of a few days, so we're going to be doing some deep diving. This shot captures Anna's classic studded belt and her crop of black jelly bracelets that were a staple for so many mall punks.
3The green baggy pants and converse combination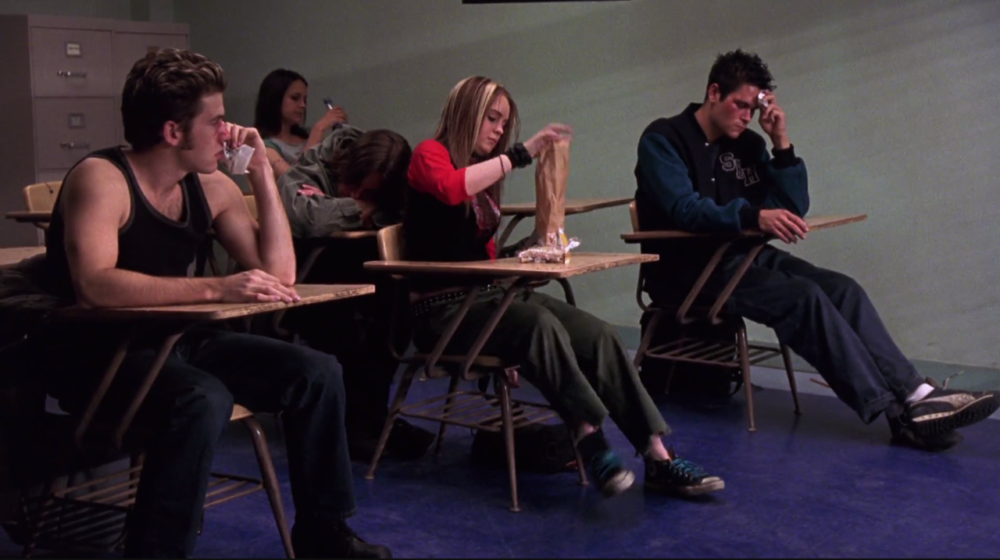 This outfit has it all. She's got the army green baggy pants complete with black Converse and colorful laces. This is the perfect outfit to wear to detention after your snobby ex-best friend Stacy Hinkhouse sabotages you in PE, once again.
4Peg's muted plaid look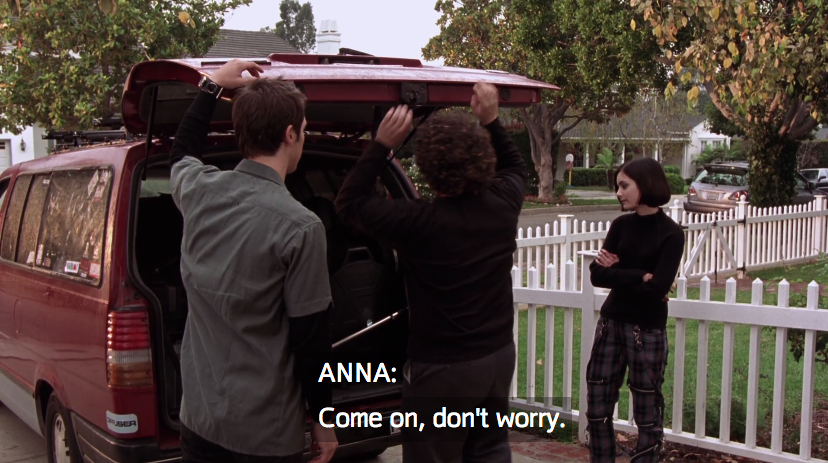 Hayley Hudson plays Anna's friend and bassist Peg, and the whole time she is serving us dedicated mall punk. I would even daresay her style approaches the neighborhood of mall goth. She has the sleek bob, dark eye makeup, black long-sleeve shirt and plaid pants with both the zippers and the hanging straps. She knows what she's doing the entire movie.
5Jake's stupid choker necklace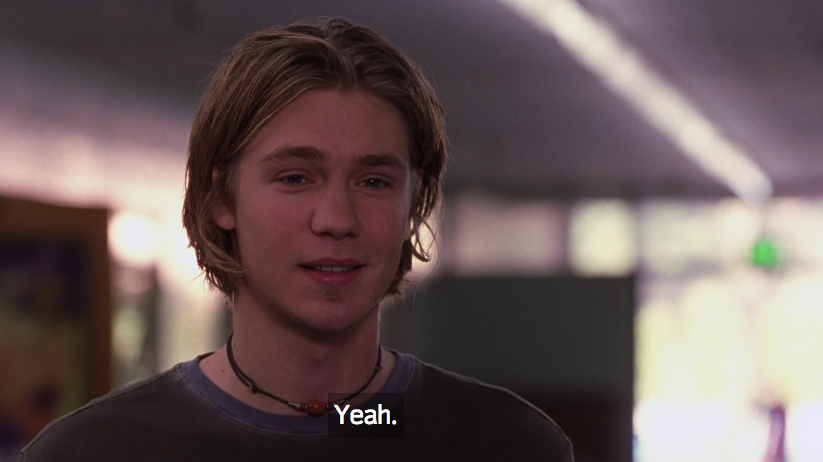 Upon first glance, I thought it was puka shell, then hemp. Currently, I'm convinced it's hemp string with the few brave accent beads. Either way, it's a true early 2000s lewk. Technically, I wouldn't call this accessory an iteration of pop punk, since Chad Michael Murray's character has more of a skater/surfer aesthetic. This is a dude who shops at Zumiez and Pacsun, while Anna shops at Zumiez and Hot Topic, and that is a KEY style difference. Still, Jake's jewelry deserves an honorable mention, and he likes all the same bands as she does.
6Maddie's crop top and plaid pants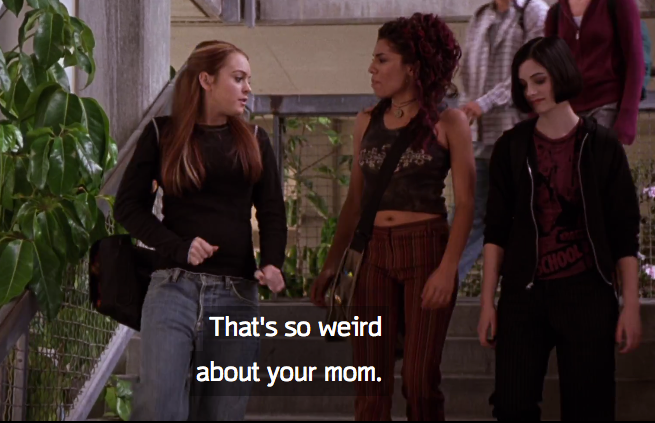 Christina Vidal, aka Maddie, aka the lead singer for Anna's band Pink Slip kills it the entire movie. One of my favorite outfits is her pairing of red plaid pants (classic) with a slightly cropped graphic tank, and of course, a choker. She also perfectly pulls off the half-up, half-down hairdo.
7The denim jacket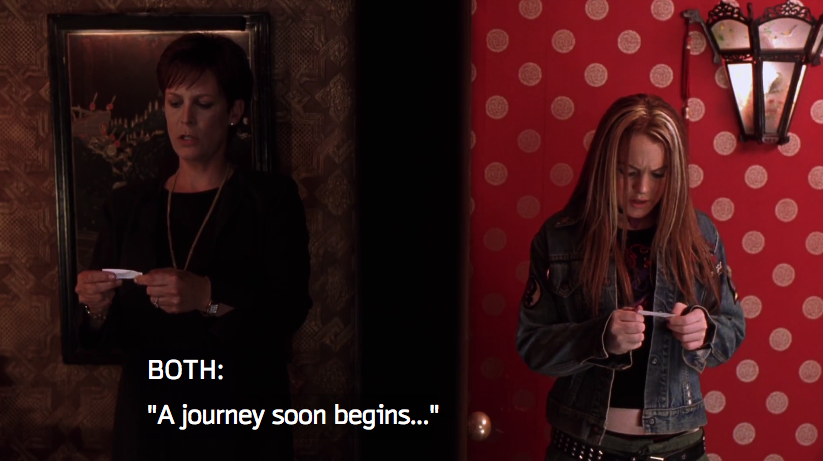 During the most important scene of this entire movie, Anna is appropriately wearing a denim jacket covered in patches. This of course brings up the questions: Did she sew those patches on, or was it a "pre-punked" jacket?!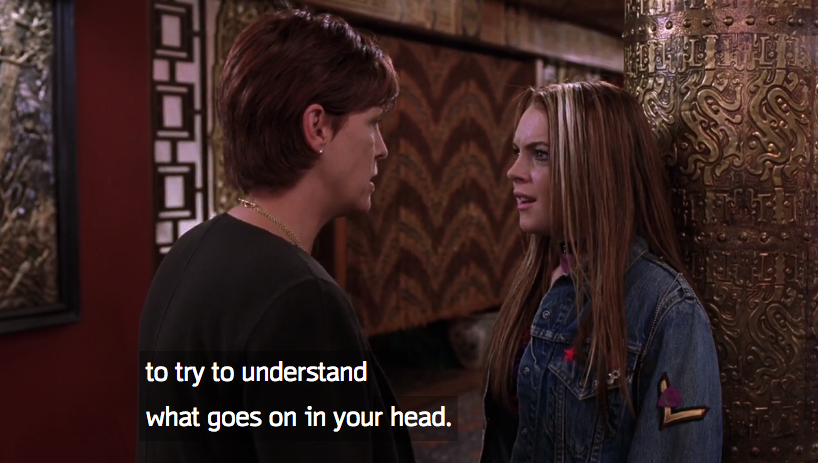 Either way, the baggy patched denim jacket is a relic of punk fashion piece that still lives on today.
8The Pink Slip band t-shirt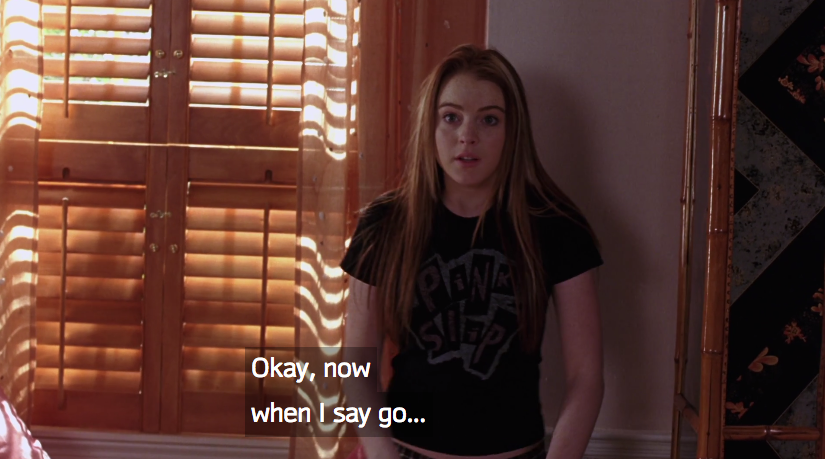 Is there anything that screams "I'm a teen in a rock band" more than wearing your own band T-shirt to bed? There isn't; this was a trick rhetorical question.
9The Stevie Nicks makeover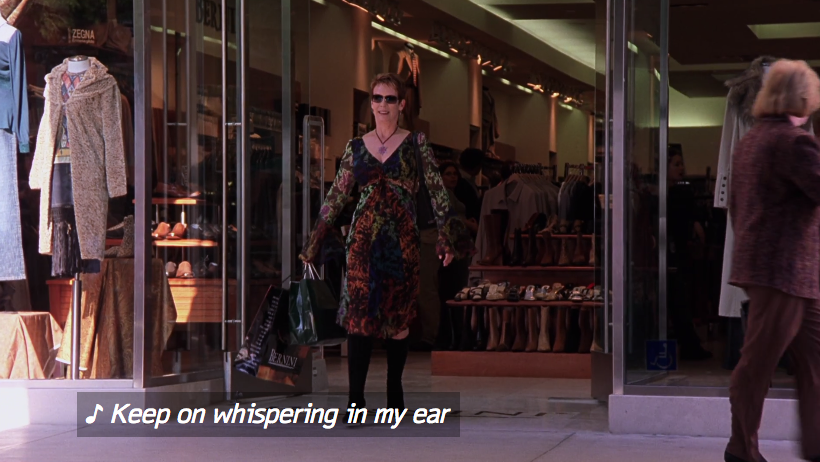 Listen, we would all be remiss to skip over the scene where Curtis lops off her hair, dyes it bright red and dons a glorious psychedelic velvet dress. Is it mall punk?! Probably not. But she looks ready to bring edibles to a seance, and isn't that the ultimate goal for all of us?
10The announcer at House of Blues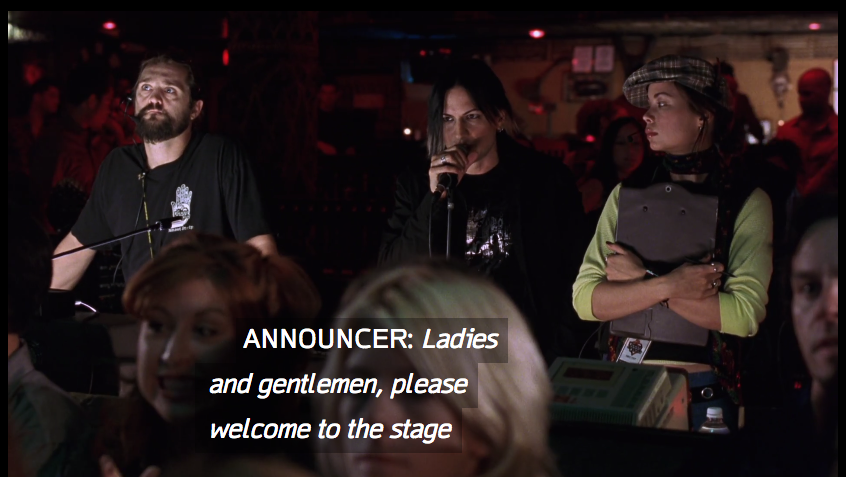 We only see him for a moment, but I couldn't get his Marilyn Manson-inspired hairstyle out of my head. This guy definitely looks like he has a few eyebrow rings lying around at home, and the woman to his right is definitely a slam poet.
11The leather jacket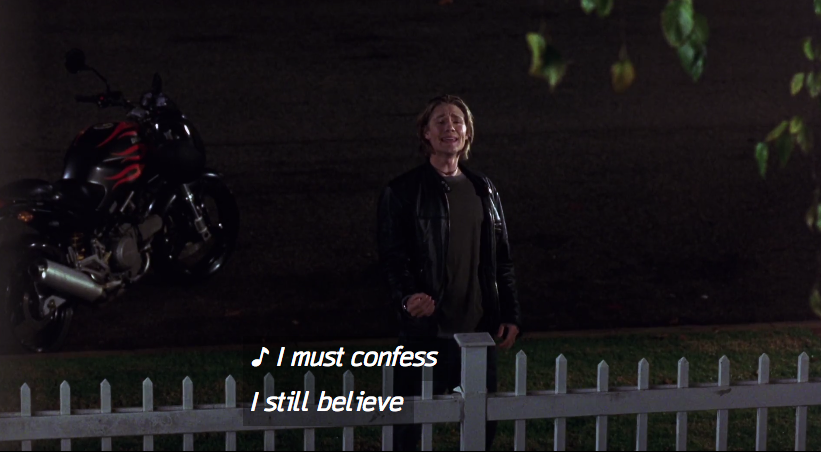 Everything from Murray's oversized leather jacket to his swoopy haircut is just screaming "climb on my motorcycle, babe."
12The hidden belly button ring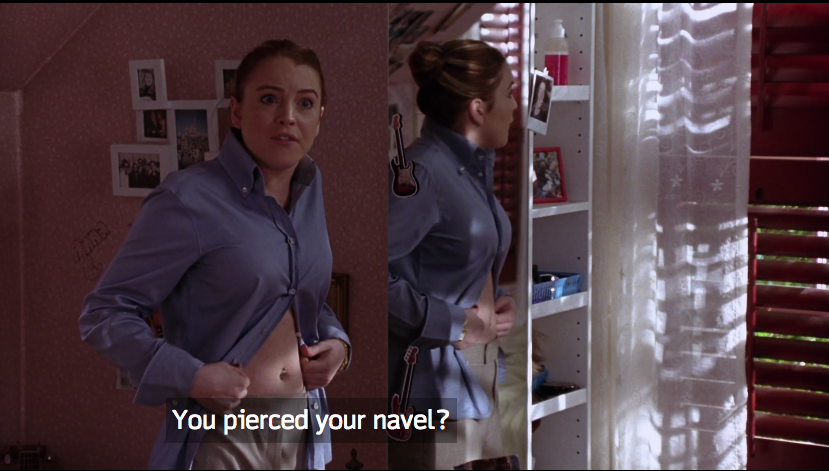 Remember when belly button rings were not only a thing, but considered edgy?! Girls who wore belly button rings knew all the shoplifting tricks and how to sneak into bars, so the moment when Tess discovers Anna's belly button ring deserves a full chef's kiss.
13This red and pink show ensemble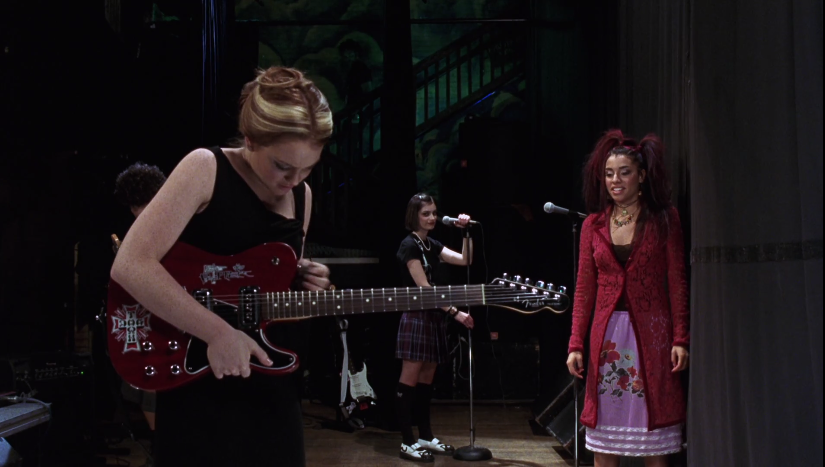 Maddie is an absolute vision the entire movie, but she somehow manages to bring her game up to another level when she pulls off clashing colors for their show at House of Blues. Her hairdo, jewelry, and confidence in her partially buttoned jacket scream lead singer.
14The pearl power outfit
There's a special place in pop-punk heaven for teenage bassists who can pull off pearls with a graphic T-shirt and a plaid miniskirt.
15The purple grunge wedding outfit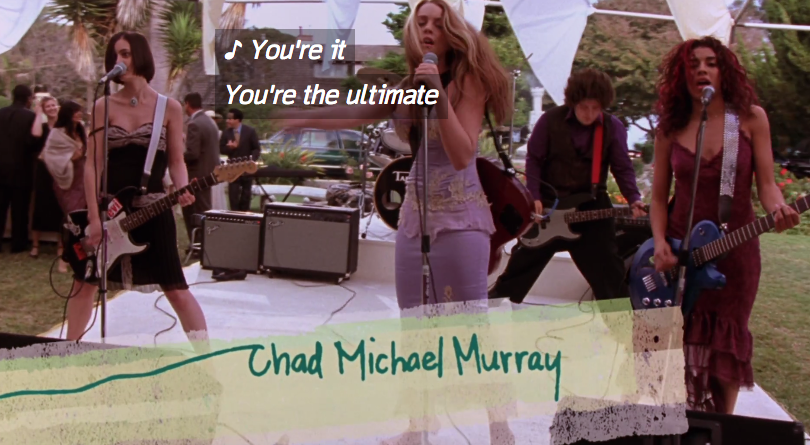 While it was admittedly hard to capture in all its glory, Anna's purple lace outfit at her mother's wedding looks like something Courtney Love would wear on tour. It's glam enough to make sense for a wedding but grunged down with her accessories and hairstyle. This is the perfect outfit to cap off the movie.