Frank Ocean serenaded Brad Pitt on stage at FYF Fest last night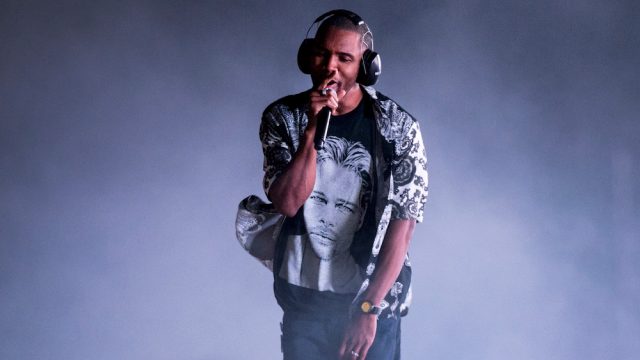 If you're not on board with Ocitt (pronounced oh sh*t, because oH SH*T!), you better buy a ticket. Frank Ocean and Brad Pitt's public adoration/love fest is moving forward and we are here for it. After a month of just outright flirting, our new fave crackship/bromance finally came together with an Ocean-Pitt team-up on stage.
Last night, the Blonde singer serenaded the Fight Club star at FYF Fest in Los Angeles with a rendition of "Close To You" by The Carpenters.
Yes, it was absolutely dreamy. And lucky for everyone who didn't have a ticket, the legendary moment was posted on Twitter by festival goers. false
Brad Pitt has been a long time fan of Frank Ocean and his dreamy voice.
Rumor has it that the actor even included him on his breakup playlist post-Angelina! He once gushed to GQ, "I find this young man so special. Talk about getting to the raw truth. He's painfully honest. He's very, very special." In response, Ocean wore the actor's face on a t-shirt at the Parklife Festival in Manchester.
It seemed like the two were suited for an AU pairing, but shockingly it was CANNON! The two handsome men were FINALLY able to admire each other up close and personal. It just so happens that thousands of people were witnessing this magic.
https://twitter.com/udfredirect/status/889044138783408133
The romantic setup was also the most L.A. thing to ever happen. FYF is a trendy L.A. festival known for its surprise celebrity appearances. Pitt's appearance was not only a lovely treat for the audience, but it was also directed and filmed by Spike Jonze. Like it was freakin Her or something!
false
There seems to be no reason for this happening other than #Ocitt (Oh, sh*t!) is making our dreams come true. Sometimes life is great. We can only hope that the bromance lives on.