Marc Jacobs had a surprising reaction to Frances Bean Cobain defacing her own face on a billboard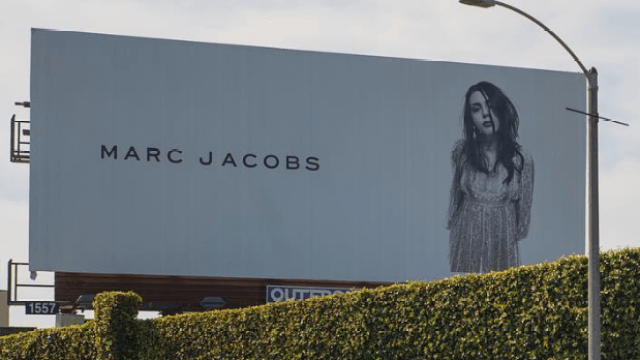 What would we do if we saw ourselves on a billboard? Idk. We'd probably Instagram it, Snapchat it, and Facebook it to death like most normal people would and then move on with our lives. What did Frances Bean Cobain do when she saw her face on a billboard for her new Marc Jacobs campaign? Ms. Cobain decided to deface her own face. Lol. What? But, wait, trust us, she did it lovingly and even got Jacobs's approval afterward. Pretty cool, right?
Here's the billboard before, which is located above the Marc Jacobs flagship store in LA:
Stunning, right?
So, here's what happened next. Cobain posted the following Insta:
Hmm, weird. Then, this.
Woaaaaah. So dope. The text reads, "WITCH, WITCH, SHE'S A WITCH," which could be a nod to her Instagram handle which is @space_witch666? No idea what the sheriff's badge refers to. Interesting.
Here she is in the act! The visual artist collaborated with artist Illma Gore and creative consultant Abreea Loren.
She even posted a video of the entire endeavor (so, I guess in a sense, she's like us because she did Instagram it pretty heavily):
Instead of getting angry or irritated about the alterations, Marc Jacobs signed off on Cobain's work by posting it on Instagram as well! (With a "✨ "!) Yasss.
The two have a close relationship. Marc said of Cobain in an Instagram post a couple of months ago:
"I first met Frances Bean when she was 2-years-old at a dinner with her mom (Courtney) and Anna Sui in 1994 at Bar Six in NYC. I have always wanted to work with Frances. Her beauty, uniqueness, and strength is something I have long admired and respected. Few things remain as constant as my continued inspiration from those whose honesty, integrity, courage, and curiosity lead them to explore and venture beyond preconceived boundaries."
So cute. We're loving the love between them.
While we adore Cobain's modeling shots, we can't expect to see too much of it in the future. She told Vogue earlier this year that modeling is "100 percent" out of her comfort zone and that she wouldn't have done it with another designer.
"I thought this collection was great," she said, "and I was flattered that Marc thought of me for this. What I said to Marc when I was saying yes was that he's an underdog for the masses. He's still very rebellious within the fashion world, and he's been like that his entire career."
We can't wait to see what you do next!