This Fourth of July cocktail is like a drinkable firecracker, in a good way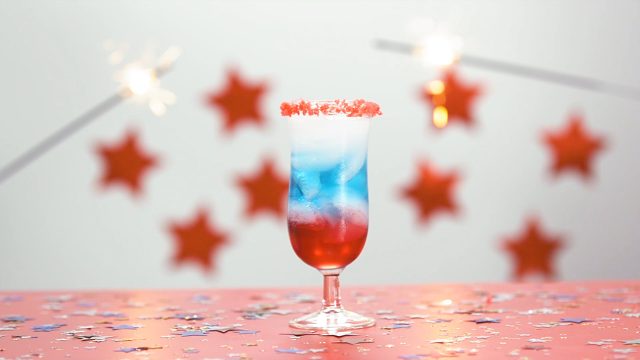 For a successful Fourth of July BBQ, you don't need much: food on the grill, a juicy watermelon, sparklers to light after dark… And, if you want the event to feel really special, a signature patriotic cocktail.
This beautiful red, white, and blue cocktail comes in with a bang. It only takes a few simples ingredients—including pop rocks. The pop rocks on the rim of this drink will make your mouth feel like a firecracker. Find the easy but memorable recipe below:
July 4th Firecracker Cocktail
Serves 4 (serving size: 1 [3-oz.] cocktail)
Ingredients
1 lemon wedge
1 pkg. Pop Rocks candy
1/2 cup grenadine
1/2 cup (4 oz.) Blue Curacao liqueur
1/2 cup (4 oz.) coconut-flavored vodka or bottled coconut water
Directions
1. Rub lemon wedge around rims of serving glasses. Dip rims in Pop Rocks to coat.
2. Fill each cocktail glass 1/4 of the way full with crushed ice. Top ice with 2 tablespoons of the grenadine. Top each 1/2 of the way full with crushed ice; add 2 tablespoons Blue Curacao. Top each with 2 tablespoons coconut vodka.
Serve immediately!