Former White House advisor Valerie Jarrett on how to honor women's history and trust that "little voice inside of you"
When Valerie Jarrett gave birth to her daughter, she had an epiphany, as most mothers do. She recognized not just a maternal desire, but a civic one: She wanted her daughter to grow up in a world where she could compete on an even playing field. This is how Jarrett—American businesswoman and former advisor to President Barack Obama—says she she found her true purpose within civic engagement.
"I was a single mom, but I was a single mom with resources," Jarret explained to HelloGiggles. "I had everything going for me, but still felt like I was holding on by my fingertips. During those years, I spent a lot of time worrying about the moms who were minimum wage workers, working a couple of shifts without the safety net that I had. I thought I should do something to try to make life easier for them. That was when I really began to focus on gender equity and trying to figure out ways to make life easier for working families."
And she would go on to do that work.
From 2009 to 2017, Jarrett served as one of three senior advisors to President Barack Obama. During this time, she also chaired the White House Council on Women and Girls and co-chaired the White House Task Force to Protect Students from Sexual Assault.
Nowadays, Jarrett is an author, serves as co-chair of the United State of Women, and is on the board of directors for ride-sharing company Lyft.
This March, in honor of Women's History Month, Lyft partnered with Jarrett and other civic heroes across the country to feature their personal stories and the places that have inspired their commitment to civic work. Through the end of the month, Lyft is providing rides up to $10 to these locations in celebration of the achievements of all women around the world.
"Two of the many reasons why I was so attracted to being on Lyft's board in the first place is that they're mission driven and care greatly about their social values—they are committed to adding to the health and vibrancy of communities," Jarrett explained. "This initiative is a prime example of that," Jarrett said, because Lyft aims to make it economical and easy for anyone to explore inspirational and historical sites in their own cities.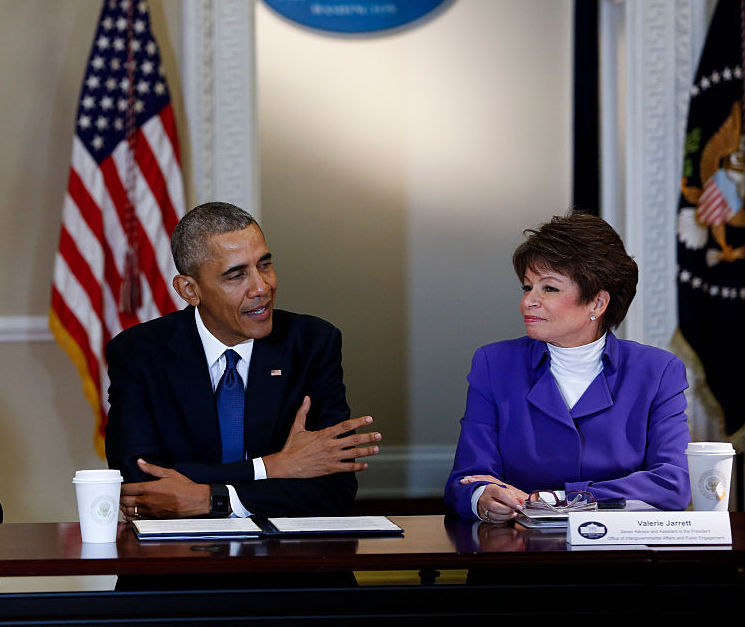 "Understanding our history and how we arrived at where we are today is vital, Jarrett said. "I think during Women's History Month, it's vitally important for us all to take a moment and learn more about our nation's history by visiting places that teach us about the important role that women have played in that history.
Jarrett said that we all take our collective history for granted sometimes, and this effort aims to break that cycle and inspire us into action.
"When you visit somewhere with a rich history, like the Sewell Belmont House in D.C., which played a monumental role in the Suffrage Movement, you look and absorb the photographs, the history on the walls, and you realize the only reason we have the right to vote, the impact of our voices now, is because women sacrificed mightily for decades to fight for the right to vote," Jarrett said. "Many who began the battle did not live to see the right of women to vote materialize, but their efforts helped lay the groundwork for progress."
Jarrett partnered with three other women on this initiative: Chicago's Kim Hunt (Executive Director of the Pride Action Tank, a project of the AIDS Foundation of Chicago), St. Louis' Brittany Packnett (educator, organizer, writer, and speaker), and San Francisco's Sherilyn Adams (Executive Director at Larkin Street Youth Services).
"Each of these women is making an impact in their community," Jarrett explains. "They're incredible local heroes. Part of the message that we're trying to send here by spotlighting women like Brittany Packnett, Kim Hunt, and Sherilyn Adams is to underscore that you don't have to be a household name to be a leader. You can make a difference in your community and touch the lives of hundreds of people and it will never be on the nightly news. These are women who are rolling up their sleeves, who care passionately about issues, and who are really making a difference in improving the lives of others—particularly the lives of people who do not have a voice to fight for themselves."
In fact, Jarrett met Brittany Packnett after the death of Michael Brown in Ferguson.
"She was a part of a Teach for a Miracle Program in St. Louis as well as one of the early demonstrators who was protesting the police violence. She stands out to me because she's smart, thoughtful, committed, passionate, and determined to improve the relationship between police and communities of color," Jarrett said. "She will be an icon one day. In my heart, she already is."
In Jarrett's video with Lyft, she brings up the fact that the only reason women have the right to vote now is because ordinary people did extraordinary things.
"I think right now, women are beginning to see the fruits of their labor, and I think that that's a good thing because our nation is full of women, ordinary women who picked up the baton and did their part… Even if you look at an icon like Rosa Parks, she didn't start out that way. She started out as somebody on her way to work who said, 'You know what? That's enough.' I think that hearing those stories, learning those important lessons that we have from the women who've made their mark in history, recognizing so many of them are just ordinary people, should empower women to feel like, 'I can do something too.'" Jarrett explained.
When asked what she would say to women who are considering getting involved in politics and civic engagement like herself, Jarrett said simply to find your passion.
"Nothing's easy," she said. "It all requires an effort over a sustained period of time and it's much easier to put that effort in if you care passionately about what you're doing. I always say, 'Listen to that quiet voice inside of you,' because that's the one that will drive you and fill you."
Note: Participating locations include Washington D.C. (with trips to The National Portrait Gallery at the Smithsonian, Republic Restoratives, The Capitol, Belmont-Paul Women's Equality National Monument, and the Vietnam Women's Memorial), New York City (with trips to the Center For Women's History, the Elizabeth A. Sackler Center for Feminist Art, the Harriet Tubman Memorial, Bulletin, and Lockwood), Boston (with trips to Bagelsaurus, CraftRoots Brewing, Bella Luna & The Milky Way, Bantam Cider, and Next Step Soul Food Cafe), Chicago (with trips to the Harold Washington Library Center, the Chicago History Museum, The Dearborn Restaurant, Fabiana's Bakery in Hyde Park, and The Legacy Walk in Lakeview), San Francisco (with trips to Jane Warner Plaza, The Tenderloin Museum, and Golden Gate Park) and Los Angeles (with trips to Golden Road Brewing, Coolhaus, and the Forest Lawn Museum).