These former "RuPaul's Drag Race" contestants don't want Wendy Williams as the Season 9 pre-show host, and here's why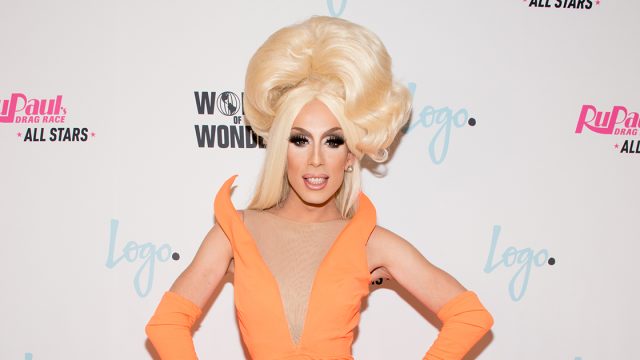 Last week saw the return of RuPaul's Drag Race to our screens, and hallelu for that!
However, some of the show's former contestants weren't to happy with Wendy Williams as the choice of pre-show host, and tbh we get it.
The opening episode of RuPaul's Drag Race Season 9 last Friday (March 24th) was a certified ratings hit! The show, which has found a new home on VH1, was watched by nearly 1 million people, many tuning in to see Lady Gaga absolutely KILL her guest judging role (and dress up as a drag king).
Ahead of the show's premiere, it was announced that Wendy Williams would be hosting a pre-show party on VH1. Known for her (often outrageous) pop culture commentary, and for saying whatever springs to mind, the choice for Williams to host the event was met with some contempt.
Drag Race Season 5 and All Stars 2 contestant, Detox, took to Instagram to share a Facebook status that she'd seen that referenced Williams past alleged homophobic behavior. The status especially referenced an incident that saw drag queen Erickatoure Aviance kicked out of Williams' show in 2010.
https://www.instagram.com/p/BSKWkpLgn8t
"This is important!" Detox wrote. "This is why I say @wendywilliamsxo @wendyshow should NOT be hosting the @rupaulsdragrace viewing party on @vh1. She is NOT an ally. She is transphobic. If anything, she is an ENEMY. An enemy profiting off of our community. Fuck. That. #ImpeachWendyWilliams ok fine. Just #FireWendyWilliams" 
As Mic.com report, longstanding show judge and friend of RuPaul, Michelle Visage, allegedly commented under Detox's post, writing "Yup." false
Stephanie Stone, who wrote the original Facebook post that Detox ended up sharing, told Mic.com that she wanted to remind the LGBTQ community who exactly were truly their allies.
This was something that Season 5 contestant and the winner of RuPaul's Drag Race: All Stars 2, Alaska Thunderfuck, also agreed on. In a statement delivered to Unicorn Booty, Alaska said that she felt Williams' coverage of Caitlyn Jenner had been "transphobic," and that she was not a fan of her supporting an inclusive show like Drag Race.
"I certainly don't think she is the right person to be hosting our community's flagship television program," Thunderfuck said. "I think it's good for Drag Race to be moving toward the mainstream. I'm grateful for the move to VH1. I'm glad that one million people watched the first episode of Season 9. Our message is one of love and acceptance and truth and strength and perseverance, and I believe it should reach everyone, near and far."
As of yet, Wendy Williams or VH1 have yet to respond to the criticisms.
Meanwhile, RuPaul's Drag Race continues Fridays on VH1.