Why I always literally fall in love to Sam Cooke's music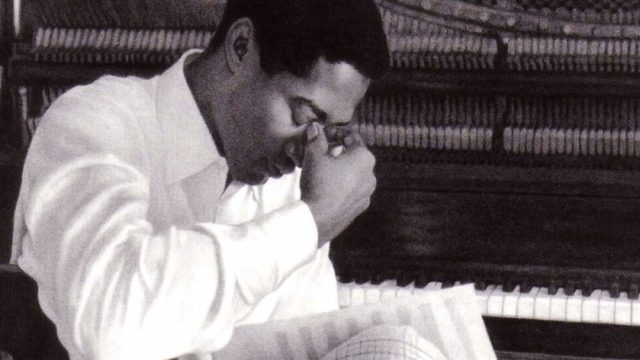 Welcome to Formative Jukebox, a column exploring the personal relationships people have with music. Every week, a writer will tackle a song, album, show, or musical artist and their influence on our lives. Tune in every week for a brand new essay.
When I was a kid, my dad would always sing along to the radio when driving, while I would sit in the backseat and laugh to myself. The music was mostly from the 1950s and 60s — sometimes doo-wop, sometimes rock, definitely some soul. Whenever the lyrics bordered on sappy or loving, my dad would direct his singalong towards my mother in the passenger seat, and she would smile.
By midway through middle school, I knew the words to more songs from the 1950s than to current pop music. Whenever someone's voice particularly caught my attention, I would ask my dad who it was and write it down: The Platters, Otis Redding, but most of all Sam Cooke. Something about Sam Cooke's voice and his songs made me feel good. Perhaps, because in the more upbeat ones, he almost sounded like he was smiling while he was singing. In the slower ones, he sounded like he was singing directly to one person with whom he was in love. And since my dad would unabashedly sing them at my mother in the car, maybe that's why years later when I was falling in love, I turned to Cooke's music when I was starry-eyed and trying to shore up my courage to tell someone how I felt.
I would start with "You Send Me" and lie in bed and replay our most recent kiss, these lyrics stuck in my head:
You thrill me
I know you, you, you thrill me
Darling you, you, you, you thrill me
Honest you do
At first I thought it was infatuation
But wooh, it's lasted so long
I have a weak spot for being called "darling" and using it as a term of endearment even though it's not common practice. The way Cooke sings it is so loving that I get lost in the song and think about how I want to tell the guy I'm falling for, "Darling, I love you."
After listening to "You Send Me" on repeat six or seven times, then I would move on to another one of his dreamy hits, "You're Always On My Mind":
You're always on my mind, instilled in my heart
You're always on my mind although we are apart
You're always, you're always, always on my mind
And baby, the reason why I know I can't forget your face
'Cause everywhere I go, I see you every place
You're always, you're always, always on my mind
The weird thing that happens to me when I've completely fallen for someone is that I see him everywhere. My mind plays constant tricks and I keep thinking I see him, doing a double-take even when I knew it's implausible, as I know where he really is or even when the "doppelgänger" is someone who looks nothing like him. My heart is so consumed by him, my mind keeps imagining him where he's not.
This is the point where I feel I need to shake myself out of this ballad mode and listen to something a little more pop, and I switch to "Don't Know Much About History." It's obviously on the sappy side, but the lyrics are so cute, they make me laugh:
Don't know much about history
Don't know much biology
Don't know much about a science book,
Don't know much about the french I took
But I do know that I love you,
And I know that if you love me, too,
What a wonderful world this would be
I love this song because it embodies how simple it really should be to love someone. You don't need to know everything about everything as long as you know how you feel. It's such a powerful sentiment put forth in what could almost be deemed a silly song.
Lastly, I listen to my favorite Sam Cooke song, "Bring It On Home To Me," which is actually about pining for someone no longer in your life. But it's so heartfelt, I feel that in the end, it still inspires me to profess my love, because the idea of hoping for a second chance to get it right is something to which I can relate. Maybe because I think of the second chance as a second try at love with a new person. Either way, I melt when I hear this song, and the refrain lingers in my head:
Oh, oh, bring it to me
Bring your sweet loving
Bring it on home to me
Fun fact: It's also the song the plays at the end of Adventures in Babysitting, when Elisabeth Shue kisses the cute college guy after her hellish night. So I can't help but take that into consideration when I equate it with a romantic happy ending.
Sam Cooke's musical catalogue, especially these four songs, make up my personal soundtrack for that frightening yet exciting venture into the unknown that is falling in love. Partly because I think of the way my dad looked at my mother singing these songs; partly because I remember feeling that childlike feeling of contentment in the backseat listening to the music and learning the words. I supposed I've always felt that comfort mixed with lyrics of love was what I needed to hear before admitting what was in my own heart.