My life according to Lana Del Rey
Welcome to Formative Jukebox, a column exploring the personal relationships people have with music. Every week, a writer will tackle a song, album, show, or musical artist and their influence on our lives. Tune in every week for a brand new essay.
My ex-boyfriend says my love for Lana Del Rey and her music makes sense because of my personality, and I agree. Having grown up on shoujo (girl-centric, romantic) anime and manga, I've always been in touch with my emotions and sensitive to those of others. (Read: I romanticize the hell out of everything). My younger self was always crushing after boys, imagining futures with them at an age so young I had barely established a past. I was always devastated when it inevitably didn't work out.
I didn't realize it until later, but I kind of thrive on heartbreak just as much as I do on love itself. Love and the pain of loving have always been at my core, and that's exactly why Lana Del Rey's music provides the perfect soundtrack to my life.
The first song I ever heard from her was "Video Games" — it played during Gossip Girl, and honestly, I didn't give it a second thought until my ex played it in his car one day. "You'd really like her," he said; the song was okay, but I shrugged it off again. Then, I was on Tumblr one day when I stumbled across her song "Diet Mountain Dew," and loved it. I was intrigued, but it wasn't until the "Born to Die" video came out when she finally had an impact on my soul. Her overall aesthetic — a beautiful woman reveling in her sadness — really resonated with me.
One of the most unforgettable days of my life was when my friend Michael messaged me on Tumblr with a link to the Born to Die leak. I was sitting in a marketing class and immediately stopped working on my metrics spreadsheet to download it. I didn't bring my iPod cord that morning — funnily enough, as I was packing my bag at home, I told myself NOT to bring it; "There's no way it'll leak today," I said, eating my words hours later. The whole day, I carried my MacBook around like it was an MP3 player. I couldn't stop listening — the album was a fucking masterpiece!
Since 2012, I've listened to Lana Del Rey nearly exclusively. Born to Die was on repeat for months. I fell in love with it over and over again, the best listens being at night as I smoked a joint out my window and melted into my bed. I was 19-going-on-20, and no other artist had resonated with my soul the way Lana did.
At the time, all I could think about were the complicated feelings I had for the various boys in my life. Born to Die allowed me to wallow in those emotions, accept them, and move on. I admired how unapologetically open and upfront she was about her emotions: Her sadness about a lover leaving her in "Blue Jeans"' her literally crazy co-dependence in "Off to the Races"; being young, reckless, and feminine in "This Is What Makes Us Girls." Four years later, and Born to Die is still an album that I turn to when I need to purge my sadness.
There were almost two-and-a-half years between the release of Born to Die and sophomore album Ultraviolence. The Paradise EP, out months after Born to Die, was an excellent post-script to the cinematic ingenuity of its predecessor. During that time, I waited and waited for Lana to tour Canada.
Finally, in March 2014, my friends and I got tickets to her show in Montreal in May. I was crying through the whole show, and it was so surreal to hear the words that had literally healed my soul sung to me live. After the show, I was lucky enough to get a chance to meet her with my favorite people on this whole planet. We took a selfie together, and I hugged her and told her she'd saved my life. She hugged me harder, and when I left, I fell to the ground and literally sobbed.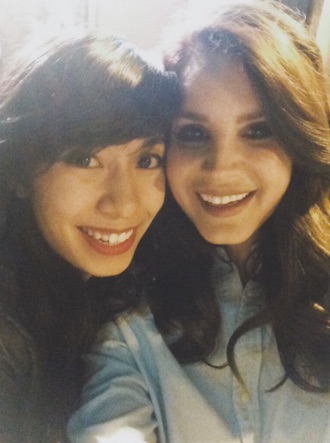 I didn't know I could love her any more, but then Ultraviolence came out. The psychedelic rock vibe spoke to me on a level that not even Born to Die had. It came out just as I finished my bachelor's degree and was getting my first taste of the real world. I fell in love with the album as I walked around Montreal solo in the summer on my first trip after finishing classes — I realized how freedom, true freedom, felt, and Ultraviolence was the perfect soundtrack for it.
Months later, when my boyfriend of eight years ended our relationship, "Shades of Cool," the song I assigned to how I felt about him, supported me in my devastation. The day after we broke up, Lana announced June tour dates, and I bought us tickets as his graduation gift. (I'm the best ex-girlfriend.) I listen to Ultraviolence the most when I need fiery strength to get through my pain, and it's helped me conquer some very trying challenges in my life.
With a two-and-a-half-year gap between the first two albums, I was very surprised that Honeymoon was released so quickly. 2015 was a real struggle for me, and when I first unwrapped the album to play it in my car, it felt surreal. I had already listened to it a few (okay, it was on repeat) times that week because I anticipated it leaking, and I was already in love with it. The cinematic, film noir of the album, and the darkness behind it felt so right with my life at the time. It eventually became hard to listen to.
For five days a week, I was driving 40-50 minutes to and from work, where I was dealing with a very serious situation that threatened my mental health. Many days, the album would have me singing and sobbing while driving down the highway, or smoking a cigarette and pulling up to my office while the sinister laugh in "Salvatore" played. Wallowing in my depression wasn't something I needed at the time, so I turned back to Ultraviolence for strength. Once the situation calmed down, Honeymoon became easier to listen to, and now I put "Music To Watch Boys To" and "Religion" on repeat without wanting to die.
In the past four years, I've listened to Lana Del Rey over 21,000 times, and that's just according to my Last.fm records. I've bought multiple copies of each of her albums, and I own way too many of her magazine covers. I really don't mean to come off as a crazy stan because she has a lot of those, but her music helps me in a way that I feel it necessary to support her.
I need her to keep doing what she's doing. She has helped me get through so much pain, and words can't express how deeply grateful I am to her. Her vision as an artist, her incredible vocal range, even just her personality as a human really sing to my soul, and I really look forward to everything that she has in store.