Thanks to diaspora pop, I no longer feel like there's only one me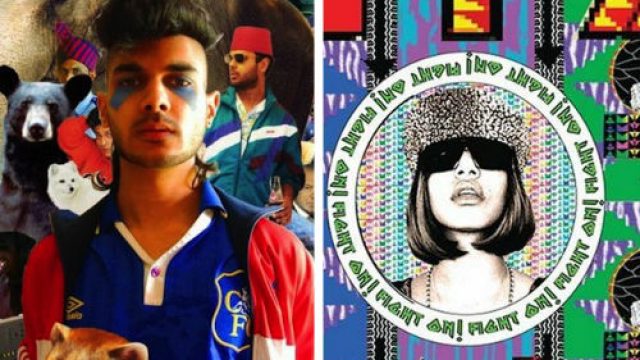 Welcome to Formative Jukebox, a column exploring the personal relationships people have with music. Every week, a writer will tackle a song, album, show, or musical artist and their influence on our lives. Tune in every week for a brand new essay.
I moved from India to Canada when I was 8-years-old. I hadn't developed a taste in music yet, but I remember how much I loved the hits from whatever Bollywood movie was relevant at the time, how hard I would dance to "You Are My Soniya" from the epic 2001 drama Kabhi Khushi Kabhi Gham.
In sixth grade, I developed an almost religious love for the Jonas Brothers, at one point covering a wall in my bedroom with magazine clippings of them. My brother would tell me how creepy it was that I had dozens of Nick Jonases staring at me while I was sleeping. At this age, I lived for North American pop music and culture. It didn't occur to me how much my taste in everything at the time depended on how hard I was trying to be popular and assimilate. I definitely wasn't faking my love for the Jonas Brothers and I wasn't afraid to tell people about it, but I also secretly loved the songs from the 2008 Bollywood hit Jaane Tu Ya Jaane Na, and that was something I didn't tell anyone.
https://www.youtube.com/watch?v=GME8aaDFZPk
When I entered high school in 2010, I faced an identity crisis that would last a very long time. I started to learn more about societal constructs and noticed all the ways that I couldn't be myself in my small, suburban Canadian town. My family made a trip to India in the winter every year. I was spending a few weeks every year in a completely different culture — one that I had never stopped loving, one that I loved just as much as the one I had grown accustomed to in Canada.
Living in the diaspora put me in a draining state of confusion. I felt like I had one foot in India and one in Canada, not wholly belonging to either place. In Canada, I felt isolated from all my friends because I was afraid to be "too Indian," and in India, I felt like an outcast among my family for being "too Canadian." I scrambled from friend group to friend group, trying to find my people. All the songs I listened to during high-school were incredibly different from each other; one second it was '90s hip-hop, the next second it was the latest annoyingly catchy radio pop song, and the next was whatever classic rock or metal anthem that my brother had shown me. I was flying through every genre, but I was irritated. I found something I liked in every variety of music that was available to me, but it just wasn't enough.
When a friend introduced me to the band Caravan Palace, a French ensemble that combines swing and jazz with electronic beats, everything changed. I listened to every song they had ever made, and with an intent focus that I hadn't been able to give to music in years. Since then, I have particularly enjoyed remixes, mash-ups, and any other dualistic genre — anything trying to do two things at once.
In my first year of university, I heard Jai Paul's song "Str8 Outta Mumbai" for the first time and was floored because I had never heard anything like it. I honestly thought I was playing music from two tabs at once. The song begins with a fuzzy recording of radio DJs introducing another one of Jai Paul's songs, fumbling with his name. Immediately, it cuts to a bit of tabla — South Asian hand-drums — that lead into an upbeat mash of electronic tones with vague lyrics. As suddenly as the tabla bit was introduced in the beginning, Paul cuts to a sample of a Bollywood oldie called "Bala Main Bairaagan."
Jai Paul Track 2 Str8 Outta Mumbai by le-pere-de-colombe
I listened to it over and over. "Str8 Outta Mumbai" combined musical elements in a way that I had never heard before. It confused me. It excited me. At first listen, it was cacophony; nearing the end of the song, I set iTunes to "Repeat one," and ended up listening to it for an hour straight.
About a year later, I finally started listening to M.I.A — the M.I.A past "Paper Planes" and "Bad Girls." I was overcome with the same feeling of confused excitement. M.I.A did for me what Jai Paul did, especially with the songs "Boyz," "Come Around," and "Only 1 U," songs that use South-Asian instruments or sample distinctly South-Asian music, and are layered, upbeat, and fun.
One day just weeks ago, while listening to Jai Paul and M.I.A. on the train, I had the kind of sudden revelation that gets written about in every cheesy YA novel. A million gears shifted and clicked, and I finally understood my attachment to the music they made. Music made by artists in the diaspora — the kind of music that creates a tangible representation of a dual identity — is different from everything else, but it is so unique that it can stand in its own genre. In the back of my head, I always felt like "Str8 Outta Mumbai" was the musical representation of how I saw my own identity, but I always thought of it as an English song with bits of Indian elements in it. It was always patchwork to me. However, while the song is out of place in both mainstream Western and Indian pop, it doesn't mean it's lost in the middle. The middle-place that Jai Paul and M.I.A. are in is a place of its own. It is a place made up of people affected by appropriation, confusion, and othering, but is also a vast community with the incredible ability to unite, mobilize, and make art that stands out.
Diaspora pop is not music that uses samples of music from around the world, like "Lean On" by Major Lazer or "Don't Hold the Wall" by Justin Timberlake. While I admit I've danced hard to those songs, they are made by artists who use other cultures' music as accessories for themselves.
To me, diaspora pop is music made by musicians living in the diaspora, incorporating elements of the different cultures the artists are a part of to make a congruent product. Diaspora pop is the beginning of Jai Paul's "Str8 Outta Mumbai," which samples a recording of Jai misnamed as John, and then poignantly cuts to an Indian drum beat. It is the intensity of M.I.A copying the jeering tone of playground bullies when she sings "Brown girl, brown girl, turn your shit down" over a distinctly South-Asian vocal sample in "Boom Skit". It is the power of M.I.A. starting a song with the tinkle of bells from a Hindu religious ceremony and then telling us there's "only one you" — ironically, that song makes me feel anything but alone. There is so much spirit in songs that re-appropriate the cultures that the artists behind the music were once afraid to partake in. There is so much life in music being made by people who were, and maybe still are, lost kids like me.
My taste in music somehow shifted and evolved with my identity, and I didn't realize the pattern until I figured out who I was. The fact that your taste in music can reflect who you are is obvious, but the fact that music helped me figure out where I belong is really what's remarkable. I can't wait to consume more diasporic pop. The reason I particularly enjoy music that is two things at once is because I am, in a sense, the same way.