David Bowie, Lesley Gore, and life after the death of my icons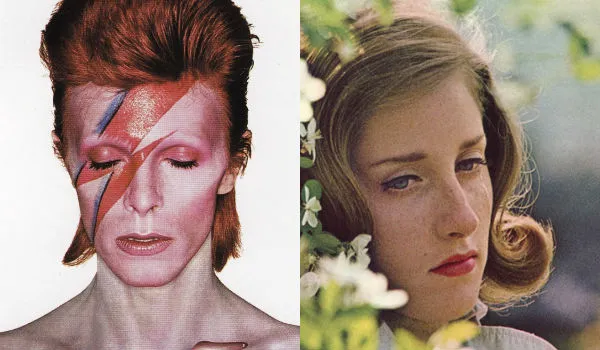 Welcome to Formative Jukebox, a column exploring the personal relationships people have with music. Every week, a writer will tackle a song, album, show, or musical artist and their influence on our lives. Tune in every week for a brand new essay.
When Lesley Gore died last year, I read through the excerpt in my teenage diary about the worst prom night of my life. When David Bowie died this past Monday, I cried and watched the Top of the Pops video that made him my first crush.
Gore and Bowie seem incongruously different: One was a teenage angst poet; the other was an androgynous rock star. And both were queer icons: Gore later came out in 2005, while Bowie gave countless interviews about his sexuality in the '70s.
Yet both icons were cultural touchstones in helping me to figure out my identity, where a song like "You Don't Own Me" felt like my anthem to defy my parents, and poring over Bowie's ever-changing looks in magazines spurred me to make dramatic fashion changes.
For me, in mourning them, I have had to knock them off their pedestals and look at how their music and personas acted as catalysts in my life.
"My crush is Mark from Westlife, who's yours?" went the common playground refrain between my primary school friends at lunchtime. But the man I had seen on TV the night before had orange hair in a spiky bouffant that extended into a strangely stylish mullet, and he wore a yellow and blue jumpsuit that was blushingly skin-tight; I knew even then that he was unacceptable crush material.
That electrifying performance of "Starman" on a Top of the Pops rerun had me swooning when I was 8. It was a sudden departure from my usual intake of the music countdown show, where I'd laugh at the funny haircuts and gawk at the moshing and grooving of the gangly white kids on stage with the musicians. "Starman" felt so shockingly conspiratorial to me, Bowie looking right into the camera with his smirky grin and oozing in alien sex appeal that was so knowing and intense. Flirting to the camera in a strange and dangerous manner, he was a jarring clash against my regular musical diet of British boy-bands and generic pop stars at the time.
Bowie went through the sliding doors of transformation and came out as Davy Jones, Ziggy Stardust, Aladdin Sane, The Halloween King, and The Thin White Duke. I didn't realize it until later, but Bowie showed me that identities are malleable.
When I moved from London to Vancouver in high school, I hadn't quite finished growing up where I was and I didn't feel in my skin until much later on. I thought that speaking in British slang would allow me to keep some semblance of my Britishness that I'd left behind, but it only made my classmates laugh and typify me as that weird Indian girl with the accent.
Rediscovering The Rise and Fall Of Ziggy Stardust and The Spiders From Mars at 14 was like finding a cultural tome. It cut through the clutter of Simple Plan, Green Day, and My Chemical Romance, acts I'd only listen to if my crush of the month liked them.
Ziggy Stardust was a misfit like me. He wore bizarre clothes that set him apart from the humans around him, and more importantly, he sang in his accent and owned it. I didn't think that that was why I loved the album at first, but hearing him drawl on his aahs and his seductive delivery in a Brixton accent was just so cool.
Hybridity was not something Bowie shied away from. From the drag style of Ziggy Stardust to the outlandish designs of Kansai Yamamoto in the Aladdin Sane era, Bowie experimented with fashion in ways that were so performative and authentic to his personality. The summer before I turned 16, I got inspired to throw out all my grungy clothes after indoctrinating myself with '60s Bollywood film fashion, and flipping through the gorgeous photo book, "David Bowie Black Book" by Barry Miles. I'd like to think I befuddled many of my classmates when I entered the school year with a new wardrobe of loud graphic tees and vintage dresses. But I had Bowie to thank for giving me the kick to try something radically new and to strut around with the confidence of Ziggy.
Although Ziggy and Aladdin Sane were my inspirations, I had to come to terms with Bowie's flirtation with Nazism in "The Thin White Duke," whom he described as an "an emotionless Aryan superman." In spite of being such a transcending figure for me as a South Asian woman, this iteration was a jarring reminder of his racial exclusivity where I was "the Other." I found it hard to love his gem "Heroes," because what type of hero did he mean that "we" could be? Bowie later disavowed his statements, saying he was in the throes of a harrowing cocaine addiction, but the Duke was an unsavoury character that left me feeling alienated from that aspect of his artistry.
It's hard to grapple with that period of Bowie's trajectory, especially after learning about the account of Lori Maddox, who lost her virginity to Bowie at 15, and the rape allegations in 1987 which have recently resurfaced. Especially as a fan of his work, it's vital not to elide any of these stories when taking into account what he meant to me. He participated in an era where rock stars with privilege and money got away with illicit relationships with teenage fans, an undeniably horrible fact. Yet, also true: His incredibly out-sized impact on people from all sorts of marginalized backgrounds, for whom role models and aspirational figures are few and far between. For that, I have to be grateful.
As Bowie encouraged me to live fearlessly in my fashion reinventions, Lesley Gore allowed me to mope and dance through my boy-crazy teenage years. But "It's My Party" still feels acutely painful — because I shudder thinking back to the day after my prom.
I was locked out of my apartment building and sat down on the bench in the outside lobby to wait for my sister to come home some four hours later. I was disheveled; the previous night's wrong makeup for my skin tone made me a red mess, and I was in a bit of a catatonic state. The previous night, my date had drunkenly rejected me based on my skin color, and walked off with another girl from my English class. I was humiliated, and the colorism comment registered with me much later that day. But it was more the territorial angst that made me fume. It was my prom night, and he was my date, so how dare he make out with her right there on the dancefloor?!
Call it a cruel stroke of serendipity or a cosmic slap; I shuffled my iPod onto the one Lesley Gore song I had, "It's My Party." The first time I'd heard it, I laughed at Gore for being such a sucker and crying at her own party. The second time around, I heard the swells of emotion in "I'll cry if I want to, you would cry too if it happened to you." The third time, it set off a cathartic bout of crying that made me ache for Gore, who was singing for my situation. That dastardly Johnny and that hussy Judy upstaged Gore on her special night, and so my connection to that song was cemented for life.
https://www.youtube.com/watch?v=V6Uo1nNt6LU
The "Why was he holding her hand / when he's supposed to be mine?" line was especially triggering, though they were definitely not holding hands. As they danced and made out on the dance floor, I knew what Gore was anguished about, because it was such a blatant disregard for my feelings moments before. Gore sang with a passion of a teen scorned, and I identified in such a visceral way. By then, I'd let the wails out on the eighth time; I knew I had to find out more about Lesley Gore, and if she had any more poetic songs that cut right to the pain.
If that song meaningful for its feelings of sadness and rejection, then "You Don't Own Me" was my fuck-you anthem after, because although the boyfriend she's talking about was not in my horizons, he stood for any authority figure who was challenging my identity performance. When my parents expressed their dismay at me spending too much time out late with friends who seemed like bad influences, I played the song to pump me for the slanging matches.
Listening to The Golden Hits of Lesley Gore the day she died was like listening to a time capsule of my teenage years, because she had a song for every happy moment, like when I would have a crush where everything really is "Sunshine, Lollipops, and Rainbows," and the complete lows like "I Don't Want to Be A Loser" when my unrequited crush found a new girl. There was poetry to the way she sang words written by her older lyricists like Seymour Gottlieb, and made them anthems for the angst I was going through.
Gore and Bowie were two curious artists who crossed paths at a pivotal point in my teenagehood. After their deaths, their music continues as the soundtrack to important moments in my life, like dancing to "Modern Love" and the scratchy riffs that filled me with so much joy and relief when I finally finished grad school last year. The memories they populate are less tinged with nostalgia than a reflection of how far I've come. So when I listen to "It's My Party" now, I think of a 16-year-old who went through that awful experience, and made it through to the other side with the help of a teenybopper poet and an alien.
Read more Formative Jukebox here.
(Images courtesy of Mercury Records and RCA Records.)