Forever 21 teamed up with Rory Beca to launch an affordable bridesmaid dress line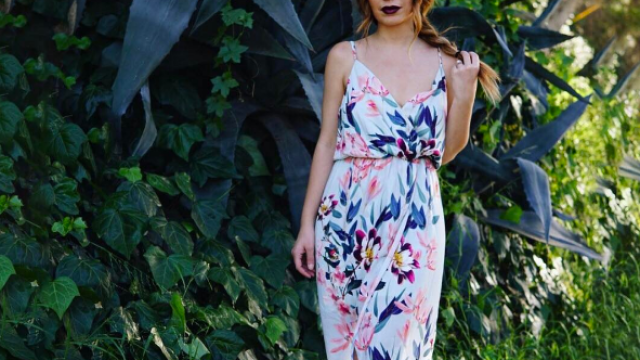 Praise the fashion powers that be, Forever 21 and Rory Beca are making bridesmaid dresses — that are both gorgeous and wallet-friendly!
Bridesmaid dresses often get a bad wrap for being on the not-so-chic end of the fashion spectrum, and also for being a *little* (read: majorly) in the pricey zone. Which is probably what got the folks at Forever 21 inspired in the first place, considering the fast fashion retailer's goal is to deliver trendy threads on the cheap. And now, all of our bridesmaid dress dreams are coming true with their latest capsule collection with Rory Beca.
Oh, and you won't have to wait long for these gorgeous gowns to come to a store near you. Because according to Forever 21's Instagram account, these babies launch nationwide this Monday.
The six-piece capsule will incorporate Rory Beca's captivating and colorful designs with Forever 21's bargainista charm.
And by the looks of it, these dreamy bridesmaid dresses, all part of the Pretty by Rory collection, are exactly what every cost savvy bride will want for her special gals.
With pretty floral maxis, peony pink one-shoulder confections and dainty lavender wrap dresses, these dresses are going to be an instant hit. Not to mention, they'll look ~fabulous~ on any figure with their masterful cuts and beautifully draped silhouettes.
https://www.instagram.com/p/BTuCfD4DctV
Oh, and we almost forget to mention, these babies all fall in the $68 to $78 price range. Hallelujah!
Linda Chang, Forever 21 vice president of merchandising, told WWD,
"We see this collection as an opportunity to provide on-trend bridesmaid wear at a price point our bridal customers will love."
https://www.instagram.com/p/BTrbg5-ASwT
Ahhh! We can hardly contain our excitement. We can't wait until these pretty maxis hit the mall this Monday, and who knows, maybe we'll even snag one for ourselves to "hold onto" in case of a future wedding party!