Forever 21 is reportedly filing for bankruptcy, and the internet is divided about it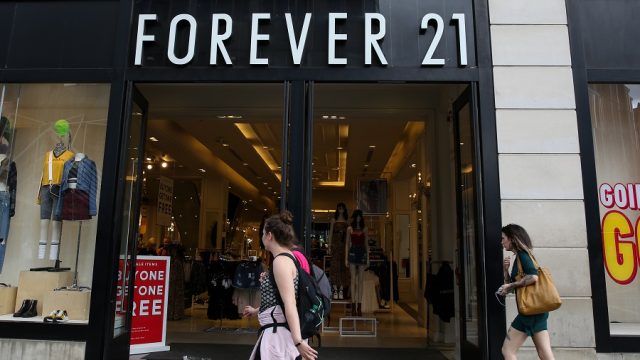 According to a new report, Forever 21 is filing for bankruptcy. Bloomberg is reporting that the company's financial struggles in recent years might force the Los Angeles-based retailer to change its business strategy, which might mean closing or restructuring "unprofitable" stores.
Forever 21 hasn't yet commented on the report, but the news comes amid a slew of mall favorites suffering the same fate, with stores like Toys R Us, Claire's Accessories, and Payless all filing for bankruptcy in the past few years. As consumers shift to online shopping—thanks to fast shipping and a growing range of options at various price points—retail culture as we once knew it is evolving, and the internet has thoughts.
For many of us, Forever 21 has been a one-stop shop for affordable fashion. (Blake Lively even admitted she wore the brand's clothes on the red carpet at the beginning of her career!) But the company hasn't been without its fair share of controversy. Fast fashion in general is not the most sustainable (or, often times, ethical) way of shopping, potentially exploiting workers and the environment. So some Twitter users are pleased to see a step toward the end of fast fashion, while others are sad for some very valid reasons.
Some users had hilarious takes about the demise of Forever 21.
false
Others were happy about what this could mean for the end of fast fashion.
https://twitter.com/udfredirect/status/1167069781624856578
false
But others pointed out that Forever 21 and similar stores offer affordable options for those at different sizes.
https://twitter.com/udfredirect/status/1167060562553036801
https://twitter.com/udfredirect/status/1167060465912090626
Though some pointed out that the size options weren't all that inclusive to begin with.
https://twitter.com/udfredirect/status/1167062367487660033
Only time will tell what the future looks like for Forever 21, but we do know people have lots of feelings about its potential demise. Here's hoping we won't have to say goodbye to those signature yellow shopping bags for good, and that the move will signify a positive shift for the beloved mall brand.