"Crossushi" is the first food trend of 2018, and we don't know how we feel about it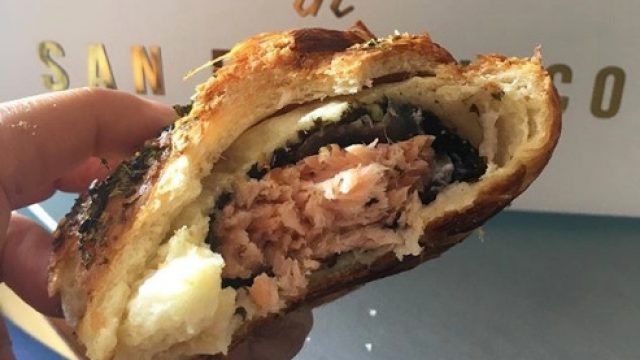 The rise of Instagram has not-so-coincidentally coincided with something else: Wacky, photogenic food trends. And though we're just days into 2018, it seems the newest food trend, crossushi (a cross between croissants and sushi), is about to take over our feeds one flaky, savory bite at a time.
Food trends range from practical (hello, avocado toast!) to whimsical (unicorn noodles, anyone?) to downright delicious (remember those milk and cookie shots?), but the newest trend pairs our favorite breakfast treat with our favorite date-night meal, and we're not sure how we feel about this.
Playing off the success of the cronut (the croissant-donut hybrid) and the sushi burrito, San Francisco-based eatery Mr. Holmes Bakehouse created the crossushi.
The bakery chain also has locations in Los Angeles, California and Seoul, South Korea, but it's their California Croissant in San Fran that has mouths watering. Turns out they've been selling their creation for a few years now, with INSIDER reporting that it's a "croissant topped with sesame seeds and filled with smoked salmon, wasabi, pickled ginger, and nori seaweed. Kikkoman soy sauce is served on the side."
https://www.instagram.com/p/BZHQ434BQ6o
The bakery rotates the flavors seasonally, so you can try out new flavors with each visit. Of course, only time will tell if the croisusshi is the next food trend to cause hour-long lines on city blocks and a flurry of double-taps, but we kinda have a feeling the crunchy, buttery hybrid is well on its way to social media legend.
If you want to try this bad boy for yourself, you'll have to head to San Francisco for now. Mr. Holmes Bakehouse also specializes in the "cruffin," which is a croissant-muffin hybrid for anyone not quite adventurous enough for the croissushi.
Do it for the 'gram, as they say!