10 flower tunnels that feel like escaping into a fairy tale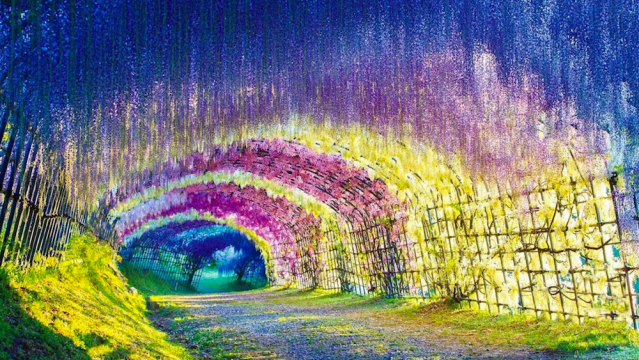 Even though it's technically almost spring, lots of us are still trying to dig our way out of tons of snow. If Winter is still hanging around, or even if it's warm and sunny, these flower tunnels are just the floral escape you need to get you ready for the first day of Spring.
These beautiful and whimsical flower tunnels will whisk you away to a far away land, where you won't have to think about frigid temperatures, heavy coats, or winter skin. Some of these sculptures have rich, robust histories to go along with the beautiful scenery.  If you can't dig yourself out of the snow banks to make the trip, you can still enjoy the fairyland magic they conjure up.
1 The Wisteria Flower Tunnel at Kawachi Fuji Garden
This mesmerizing Japanese flower tunnel is located in Kitakyushu, Japan, about six hours from Tokyo. The wisteria produces enchanting shades of purple and lavender. The best time to visit is in late April and May.
2Oak Alley Plantation, Lousiana
This amazing landscape is a little closer to home for US fans. This tree-tunnel can be found a little outside of New Orleans. It's been the location for a lot of our favorite television series and movies. Scenes from Interview with a Vampire, Django Unchained and True Detective were all shot here.
3 Cypress Point, California
These cypress trees are a sight to behold in the seashore town of Point Reyes. Just north of San Francisco, this tunnel feels like it's from another world.
4 Cherry Blossom Tunnel, Bonn, Germany
This German town comes alive with the cherry blossoms blooms, and provide an incredible canopy over the city streets. For 20 days in the summer, the town enjoys these magnificent blooms.
5 The London West Hollywood, California
If you're looking for a way to make your wedding one your guests will never forget, you might think about copying this flower tunnel, designed by Mark's Garden.
6 The Dark Hedges, Bregagh Road, County Antrim, Northern Ireland
This may be less of a fairy tale and more like a Gothic adventure, but these twisted trees are still incredible. The trees block out most of the sunlight during the day, and the effect is as spooky as it is breathtaking.
7 Ravine Gardens State Park, Florida
Imagine taking a sunset hike in the Florida gem. These pink flowers are the stuff dreams are made of.
8 Painswick Rococo Garden, Cotswolds, England
https://www.instagram.com/p/BRFGtWIB4_g
This storybook town looks like it comes straight out of your favorite story. It will transport you to medieval world with white knights, fierce damsels, and all the grog you can handle.
9[ Dubai Miracle Garden, Dubai, United Arab Emirates
Quite literally a tunnel of love, this garden in Dubai is the perfect spot to stop and take it all in. And it's not a bad backdrop for your Instagram snaps, either.
10 Marina Bay Sands, Singapore
https://www.instagram.com/p/BQQuy6LFNCa
This flower tunnel in Singapore has enough beauty to sustain itself, but it also leads you directly to the Chanel store. It's a win/win.