Meet Flossie Dickey, who is 110 and fabulously DGAF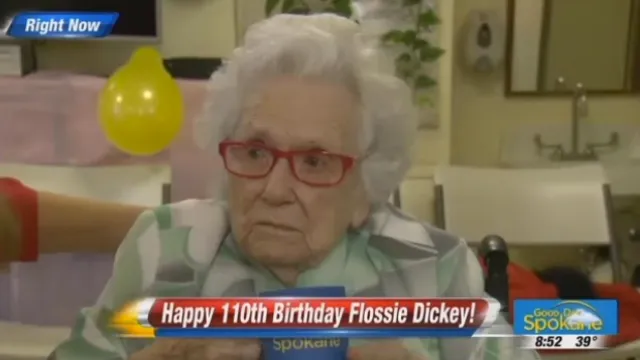 We of the Internet era frequently say we have no F's left to give, but it seems like if you live to 110, you are really and truly out. Meet Flossie Dickey, living proof that age makes you a gosh-darn badass.
Born in 1906, Flossie recently granted an interview request with a Good Day Spokane in honor of her 110th birthday, and in doing such has achieved something few people from the turn of the 20th century imagined: going viral.
In her interview, Flossie seems over it from moment one, dropping leading hints that she wants out. "I am tired," and "I take a nap as many times as I can," she states. She is super unimpressed by the flowers Good Day Spokane brought for her, and furthermore, has no time for inane, condescending questions about whether she's excited for her upcoming birthday party ("not one bit," Flossie says defiantly.)
According to Kris Bahr, a worker at Flossie's care center, Flossie is a jokester, and her favorite thing is to have some whiskey "straight up."
But while Internet adoration will all be over Flossie's showstopping interview, the real story of Flossie's life is even more fascinating. Speaking to northwest paper The Spokesman Review, Dickey has vivid memories of life 100 years ago. Growing up as a farmer's daughter in the northwest, she recalls getting to know local Native American tribes as a child. "The Indians made us moccasins…They were very friendly. We'd always fix them breakfast when they came." Her rural upbringing also included meeting a few outlaws: "If they liked you, you were all right," she recalls.
Flossie married at 15 and raised three children during the Great Depression. She's now the matriarch of a remarkable clan, including 20 great-grandchildren and 15 great-great-grandchildren. With a life that's included the survival of everything the 20th and 21st centuries had to offer, she certainly deserves her whiskey. Happy Birthday, Ms. Dickie!
Check out the interview below: