There's been a shooting at a Florida high school, and at least 17 people are reported dead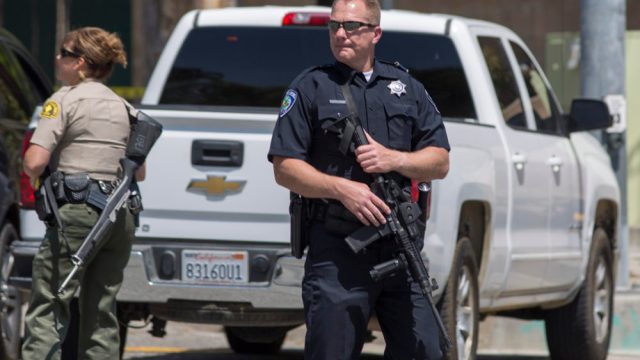 UPDATE, 3:31 p.m. PST: The Associated Press reports that 17 are dead, according to law enforcement.
UPDATE, 1:31 p.m. PST: Senator Bill Nelson of Florida informed MSNBC that "there were a number of fatalities," at the high school. It was previously reported that fatalities were unknown.
News just broke that there has been a shooting at Marjory Stoneman Douglas High School in Parkland, Florida today, February 14th. Local authorities have reported that at least 20 people have been injured and there are multiple fatalities.
"Everyone just started freaking out," a student has told WSVN. "We all thought it was a fire drill because we had one previously today," he said. "And we thought it was, so no one was that nervous, but then word started going around that it was shots and not just, like, something else, everyone just started running towards the canal."
Aerial news footage shows several people on the ground outside the high school being treated for injuries. A woman named Lissette Rozenblat, who's daughter attends Marjory Stoneman Douglas High, told CNN that students were seeking shelter at a nearby Walwart, and that, "She [her daughter] was very nervous, she said that she could hear the person who was shot crying out for help, and was just a nervous wreck."
It appears as though the shooting occurred near the end of the school day, and the building immediately went into lock down.
Not much else is known at this time, but news outlets appear to be getting the most up-to-date information from parents who have spoken with their children via text and phone calls.
One parent told NBC Miami that their son had apparently hidden in a closet with several students throughout the ordeal.
Several politicians have already tweeted about the horrific incident, including President Donald Trump.
https://twitter.com/udfredirect/status/963878055969198080
The shooter is currently in custody. Parkland is located about 30 miles inland of Boca Raton on the southeast coast of the state.
This story was originally published on February 14th, 2018 at 1 p.m. PST.