Florida school shooting survivors delivered powerful speeches at an anti-gun rally, and they didn't hold back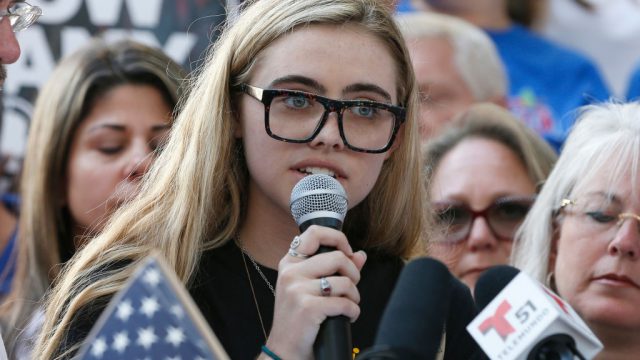 The survivors of the devastating school shooting at Marjory Stoneman Douglas High School in Parkland aren't staying silent. On Saturday, February 17th, students, staff, and members of the community joined together at a Florida school shooting protest in Fort Lauderdale, Florida. The survivors spoke out against the gun lobby, the National Rifle Association, and the lax gun laws that led to the tragic events of February 14th.
The Rally to Support Firearm Safety Legislation was a raw, intense affair. Still fresh from the events that left 17 students and staff members dead, survivors shared their stories and experiences with the large crowd. High school senior Emma Gonzalez was among those who spoke for the victims, and those left behind.
"Every single person up here today, all these people should be home grieving," Emma Gonzalez said in her speech at the Florida school shooting protest. "But instead we are up here standing together because if all our government and President can do is send thoughts and prayers, then it's time for victims to be the change that we need to see."
Gonzalez has been an especially powerful voice in the days since the shooting. During the attack, she sat with fellow students in the auditorium of her school, not knowing what would come next. But at the rally, she was one of the survivors who spoke out against gun violence the loudest.
Senior David Hogg spoke too, urging those in the crowd — and the millions watching across the world — to vote out politicians who support the gun lobby.
"This is not just another mass shooting. No shooting is just another mass shooting," Hogg said. "This needs to be a turning point. This shooting was the result of a number of situations and individuals, but action can still and should still be taken to prevent something like this from happening. People in Congress, people in state legislatures, just lawmakers in general, need to stand up and not let these political divisions prevent them from saving children's lives.
Gonzalez, Hogg, and other speakers weren't shy about getting political.
From Florida Senator Marco Rubio all the way to Donald Trump, the students were ready to call out anyone who was content to offer nothing more than 'thoughts and prayers.' And it looks like this is just the beginning of the activism of the Florida school shooting survivors. Staff and students alike have vowed to bring about change in an era of escalating gun violence.
"We will be the last mass shooting," Gonzalez told the crowd. The shooter, 19-year-old Nikolas Cruz, is charged with killing 17 people and injuring many more in what has become one of the deadliest school shootings in history.
Our hearts go out to the victims of the families and the survivors. We can only hope that the words of Emma Gonzalez prove true.