Florence Pugh is so over bullies judging her relationship with Zach Braff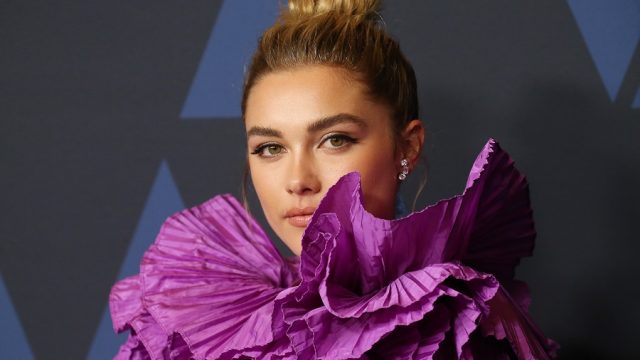 Little Women and Midsommar star Florence Pugh took to Instagram on Wednesday, April 8th, to kindly ask a specific group of followers to stop nitpicking her relationship with Zach Braff. Pugh, who has been dating Braff since early 2019, posted a photo on April 6th to wish Braff a happy birthday. In response, people started judging their relationship in the comments—which has been a trend since they started dating. Finally, Pugh decided she's had enough.
"On Monday, I posted a photo in honor of Zach's birthday, and I wrote a birthday message underneath. Within about eight minutes of the photo being posted, I had about 70% of the comments hurling abuse and being horrid and basically bullying someone on my page," Pugh said in the April 8th video.
She added that this was the first time she's had to turn off her comments because people were being so nasty. Pugh continued, "It makes me upset, it makes me sad that during this time when we really all need to be together, we need to be supporting one another, we need to be loving one another."
https://www.instagram.com/p/B-pZ6_rlKFB
"I'm 24 years old," Pugh reminded her followers. "I'll underline this fact: I am 24 years old. I do not need you to tell me who I should and should not love."
Pugh also noted that she wouldn't "ever, ever" bully someone or their relationship, calling cyberbullying "embarrassing and sad."
"It is not your place," she said to followers who bully Braff or her relationship in the comments. "And really, it has nothing to do with you."
If you can't leave Pugh and Braff alone, she asks you to please unfollow her account. "Being hateful is not trendy," she wrote in the caption.
https://www.instagram.com/p/B-vBzJ6FyoU
In contrast to her Monday post, this video received so much positive feedback. Joey King commented, "You are simply the coolest," and Maisie Williams wrote, "Get ittttt."
Ariana Grande added, "'being hateful is not trendy' a new tattoo for my chest…oh i love and appreciate u so much."
There is nothing to gain from bullying someone (and a grown woman, at that) for their relationship choices. We are allowed to love who we love, live our own lives, and do what makes us happy. We recommend hopping off Pugh's case and trying to incorporate a little positivity into your life. It just may be a life-changing experience.