Florence Kasumba plays a warrior in both "Wonder Woman" and "Black Panther," and that makes her a real-life superhero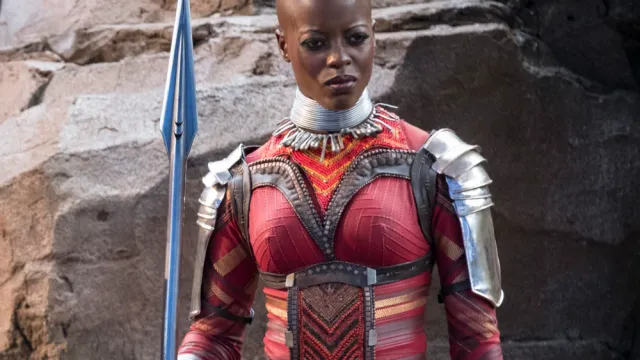 Wonder Woman blew everyone's minds when it was released last summer, and we were only *just* recovering when Black Panther came along on February 16th and did it again. But did you know the two have an actress in common? That's right, Florence Kasumba appears in Wonder Woman and Black Panther.
Yes, Florence Kasumba might just be is definitely your new hero.
The Ugandan-born German actress may not be a household name (that is, not yet), but it could happen overnight. After a brief turn in Captain America: Civil War, where she appeared as a Wakandan security chief for King T'Chaka, Florence Kasumba was cast as the fierce Senator Acantha in Patty Jenkins' feminist opus Wonder Woman. And when Ryan Coogler made Black Panther, he brought Kasumba back for an expanded role.
Kasumba's Civil War character did not have a name; fortunately, Black Panther changed that.
In the Marvel film, Kasumba plays Ayo, a Dora Milaje member sworn to protect King T'Challa and Wakanda. Ayo might not have the most visibility in Black Panther, but that could very well change should a sequel get the green light (and let's be real, it definitely will).
As the actress explained to IndieWire, the film cut a scene that showed her flirting with Wakandan general Okoye, played by actress Danai Gurira. Could there be a romantic, queer storyline in Black Panther's future? Perhaps!
https://www.youtube.com/watch?v=VSB4wGIdDwo?feature=oembed
Since beginning a professional acting career at the age of 24, Kasumba has filmed dozens of projects in three different languages. She's delivered performances in English, German, and Dutch. Just let that settle in. Amazing.
Kasumba's new fans will next be able to watch her in two crazy-special projects. Later in 2018, she'll appear as Hippolyta in Shakespearean comedy A Midsummer Night's Dream, and in 2019, Kasumba will voice the hyena Shenzi in The Lion King. Can't pick which one to be more excited for? Neither can we.