Fleetwood Mac Fest was the perfect reminder that they're (still) the best band in the world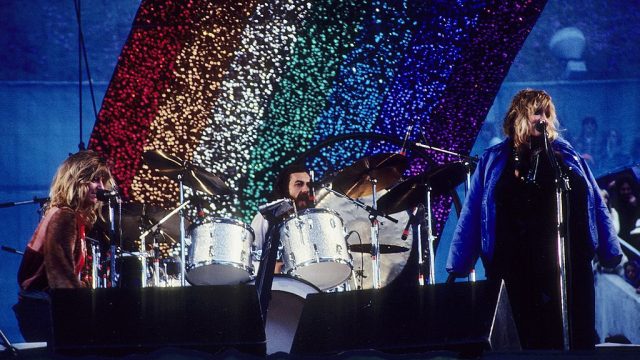 Last Tuesday night, lucky patrons of the Fonda Theatre in Los Angeles were treated to the first-ever Fleetwood Mac Fest. No, you didn't read that wrong: The Best Fest, an organization that's hosted tribute concerts for everyone from Bob Dylan to Brian Wilson, turned their sights onto the iconic rock group for a two-night celebration of not just Fleetwood Mac's seminal songbook, but also Stevie Nicks and Lindsey Buckingham's solo catalogues. The goal: To raise money for Sweet Relief Musicians Fund and The Sweet Stuff Foundation, organizations that support musicians and industry professionals in need of financial support.
The end result: There were crowd sing-a-longs. There were impassioned Nicks vocal impersonations. There were appearances from Sarah Silverman, Will Forte, Carly Rae Jepsen, Juliette Lewis, and Courtney Love. And throughout the night, there was an understanding in the room — that these songs are special, sacred missives from one of rock history's most mystical, mesmerizing, and enduring groups.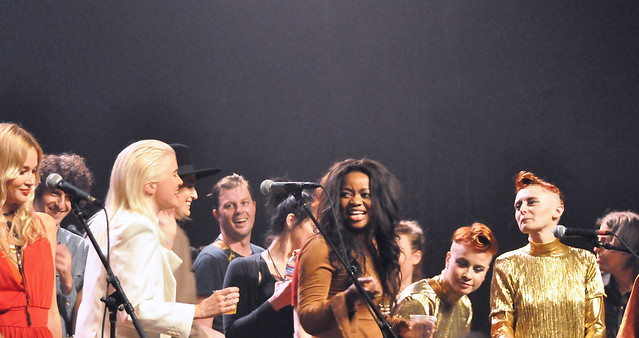 As new events are wont to be, Fleetwood Mac Fest's first night began late. (Both evenings featured the same line-up, minus a first-night-only Jepsen.) But when the curtains finally opened for the Cabin Down Below Band, comprised of Best Fest founders and performers who served as emcees and as backing instrumentals and vocals for the rest of the night's performers, they blew the crowd away with a stage-shaking rendition of "Tusk."
That in-and-of-itself was pretty impressive, but the song has an additional significance in Los Angeles; the local University of Southern California marching band is featured on the original recording and subsequent music video. An alumnus of the marching band myself, I was thrilled at the hat tip, intentional or not. Everyone in the crowd roared their agreement at this opening, and the night began at a riveting high.
Throughout the evening, audience members were treated to a karaoke master class of sorts. Various performers of all different genres and styles tried their hand at, in particular, Nicks's crystalline vocal highs and never-ending vowels and Buckingham's wry deliveries, though one of the highlights of the nights came from Noah Gundersen's incredible take on the Christine McVie-led "Little Lies." However, Gundersen's gendered vocal swap was an exception: More than half of the night's vocals came from female performers, some of whom delivered Nicks tributes that would've made even the legend herself do a double-take.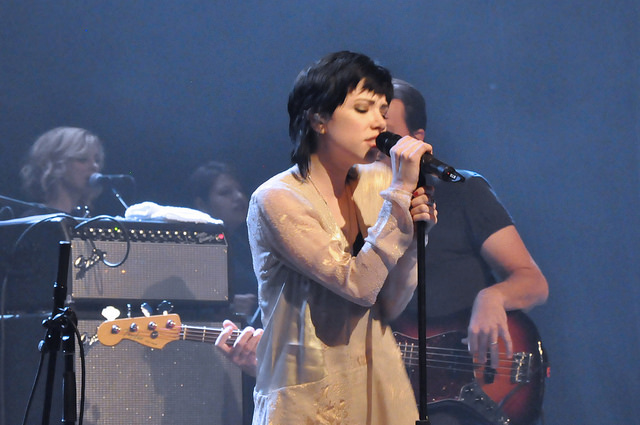 Carly Rae Jepsen singing "Hold Me"
Jepsen, whose coy pop persona and pure subject matter have made her a critical darling, tackled the genuinely sweet "Hold Me," before whisking away to catch a red-eye to New York City. Other performers took on tougher vocals and postures: Emily Armstrong, of rock group Dead Sara, bantered with the crowd before delivering an absolutely scorched earth take on "Edge of Seventeen"; Nashville-based singer-songwriter Jessie Baylin brought "Gypsy's" wary emotional heft front-and-center; country-leaning sisters Allison and Catherine Pierce perfectly choreographed their no-nonsense cover of "Say You Love Me"; Karen Elson, whose day job is as an internationally-famous model, not only outshone Will Forte on a "Stop Draggin' My Heart Around" duet, but brought her A-game for a stellar cover of "Rhiannon."
Karen Elson singing "Rhiannon"
From the men, Gundersen's "Little Lies" was perhaps the stand-out cover, though Jamestown Revival's plucky "Never Going Back Again" was a welcome acoustic break in the 28-song set. Doyle Bramhall II's masterful playing on "Black Magic Woman" was particularly deft, while Butch Walker brought some whiskey-fueled edge (the night was sponsored by Jameson) to "Monday Morning."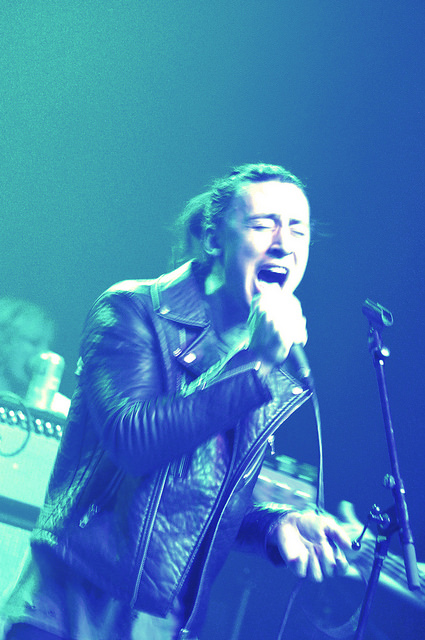 Noah Gundersen singing "Little Lies"
Alas, the festival suffered from some growing pains: Ruby Amanfu was swallowed up by the stage and the Cabin Down Below band's set-up during her otherwise respectable cover of "I'm So Afraid"; Joanna and Emily Newsom were treated to some pretty terrible stage design that shunted each of them into opposite corners, and their hushed rendition of "Beautiful Child" was a poor fit for the later drunk-chatty crowd; Cold War Kids could've benefitted from a more up-tempo song choice than the extremely chill "Man of the World."
Of course, there were some more recognizable names on the line-up, but recognition alone didn't guarantee a hit with the crowd. George Harrison's son Dhanni played backup to the LA-based Mereki, whose thin voice never quite hit on "Landslide"; Sarah Silverman's vocals on "Go Your Own Way" were, to borrow from Randy Jackson, pitchy, though her comedic timing before and during her performance was on point; Alison Mosshart, one half of British rock royalty the Kills, posed her way unconvincingly through "Dreams," despite a fresh-off-the-Super-Bowl Mark Ronson playing guitar behind her.
However, two veteran performers ditched the tacit Fleetwood Mac tribute-paying for their covers. Juliette Lewis exploded onto the stage in a canary yellow jumpsuit and kicked and yowled her way through a cover of Nicks's synth-heavy "Stand Back," transforming it into something stranger and punkier. Later, Courtney Love added rough edges to "Silver Springs," leering at the audience and later flashing it before swanning into the wings.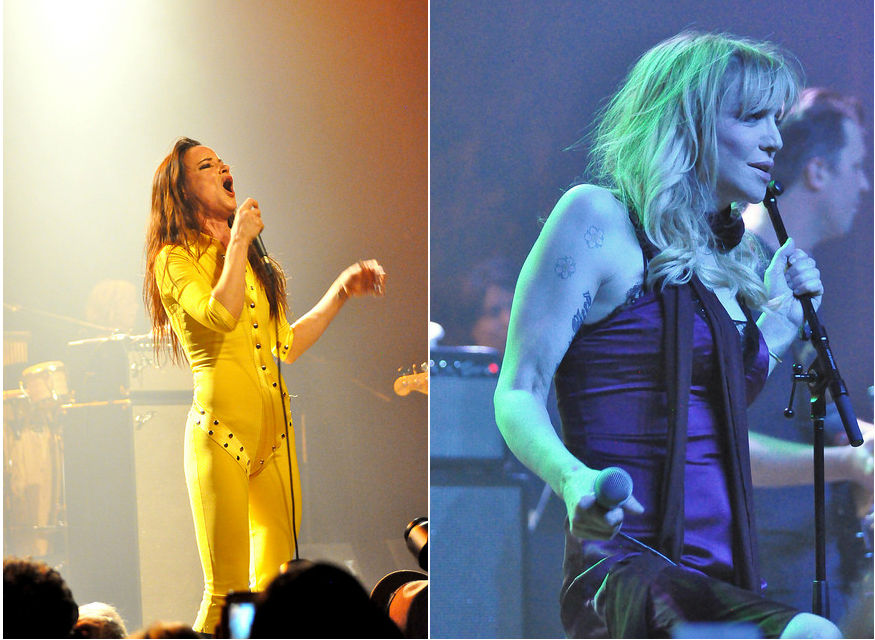 Juliette Lewis singing "Stand Back"; Courtney Love singing "Silver Springs"
By the end of the night, the crowd was restless; after all, listening to 28 songs, even ones you adore in your heart-of-hearts, is a commitment. But Perry Farrell of Jane's Addiction and his wife Etty breathed some late-set life back with a slinky cover of "Gold Dust Woman," and then Cabin Down Below bandleader Austin Scaggs gathered many of the performers back on stage for a one-two ending punch: "The Chain" and "Don't Stop," easing the audience into a second (or perhaps third) wind of frenzied dancing which only ended when the house lights glowed back on.
Fleetwood Mac Fest isn't, nor could it ever be, a full substitute for seeing the iconic band live; it is similar to, say, trying to catch a rainbow in your hands. But despite the festival's growing pains, the evening served as a potent reminder and celebration of the band and its members' music. Many of these songs are dear to my heart; to hear hundreds of other people scream along to lyrics I'd happily ink into my skin, songs that have soundtracked my heartbreaks, triumphs, and make-or-break decisions, gave me chills and tears at the same time. I'm sure I'm not the only one who felt that way, and I can't wait to see what and whom the Best Fest comes up with for next year.
Related reading:
Stevie Nicks once again proves she's a feminist rock queen