A flash mob 200 Hillary Clinton supporters danced in pantsuits and it was spectacular
In case you're wondering, flash mobs are definitely still a thing. They're effective at startling TF out of oblivious pedestrians, and they also make for pretty eye-catching political statements. That said, we can only imagine how it must have felt to see over 200 Hillary Clinton supporters dancing in pantsuits in New York City's Union Square.
Judging by this colorful sight for sore eyes, passersby were probably wondering if they somehow missed out on an invite to a strange fashion show after party in the streets, but nope — that was just the pro-Clinton crowd putting their dance skills to use.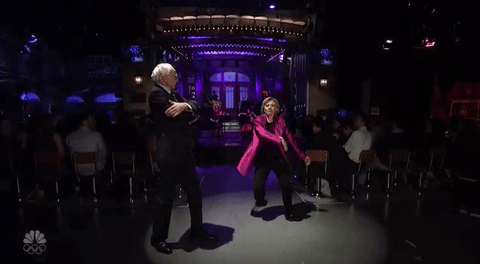 According to Elle, the five-minute group groove session that took place around noon on Oct. 2 was coordinated by life partners Celia Rowlson-Hall and Mia Lidofsky. Team #ImWithHer took over the square with a choreographed routine set to Justin Timberlake's "Can't Stop the Feeling."
https://www.youtube.com/watch?v=ktuBmsmhhHw?feature=oembed
"We've been upset to see all the hatred against her, and the focus on her pneumonia, and [the portrayal of] her as a weaker individual when she's so strong, so smart, so eloquent," Lidfosky said about why she organized the flash mob.
"She had that shimmy," Lidofsky said of Clinton's now-famous presidential debate shoulder move. "She gave us the shimmy," Rowlson-Hall added. "And we gave her a dance."
LOL. Sorry y'all — we couldn't resist.