Here are a bunch of flamingos dancing to find mates in this gorgeous "Planet Earth II" teaser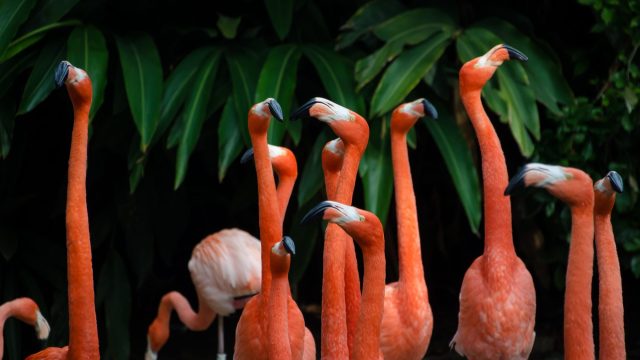 When's the last time you saw a flock of birds get their collective groove on? If it's been a while (or never), this video of a bunch of courting flamingos performing a mating dance is probably the most movement you've seen from the gorgeous pink-hued animals since the last time you drunkenly watched your favorite flamingo pool float drift aimlessly across the water.
So, what's up with all these birds dancing? The footage of this intricate avian ritual comes courtesy of People, who were treated to an exclusive sneak peek at BBC America's premiere of Planet Earth II.
Over the past few months, the network has shown us snippets of all sorts of captivating animal activity like bears dancing and snakes chasing an iguana, and like its predecessors, this clip of Andean flamingos' beautiful gesture certainly doesn't disappoint.
During the breeding season, the flamingos do this dance for a month. They're so focused on finding a suitable partner that not even the relentless heat or the need for food will stop them from their ritual, which eventually ends when the birds pair off to mate.
Of course, listening to Sir David Attenborough's Planet Earth II narration is *almost* as good as viewing the actual footage, but these amazing clips are obviously too intriguing to ignore.
It feels like we've been waiting forever for new episodes, so we'll happily continue soaking up all the teasers we can get until the second season of Planet Earth II premieres on Saturday, February 18th at 9 p.m. EST.