Flame nails are the, ahem, hottest nail art trend that you need to cop this summer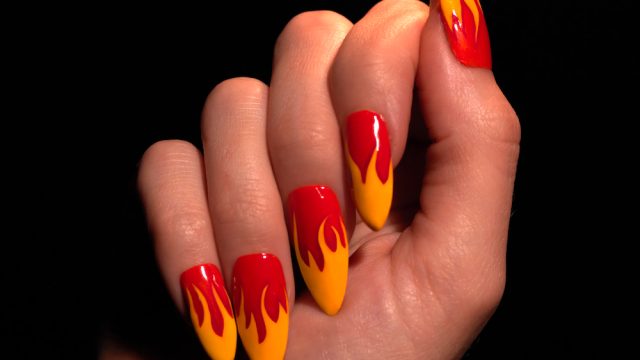 At any given time, there are about three to five nail art trends that are absolutely swallowing your Instagram feed whole. Usually, two of those get old super fast, leaving you with a couple that remain welcome additions to your daily hourly scroll sesh. (That, my friend, is called Instagram trend math.)
This summer's crazy-popular yet still beloved nail art trend that we don't think we'll ever tire of? Flame nail art. The fiery and eclectic trend started popping up this past winter, and it shows no signs of slowing down whatsoever. Whether the flames are done in neon or holographic silver, on nude nails or a matte color underneath, on short or long tips, this trend is totally eye-catching.
Below are some of our favorite flame nail art designs on Instagram.
Love the warm and cool mix.
When the holographic trend meets flame nail art.
A subtle pink adaptation of the trend.
And a not-so-subtle pink adaptation.
Calling all fire signs!
Can't. Stop. Staring.
How stunning is this black and white version?
You can cover as little or as much of your nail with flames.
A neon version, of course.