FKA Twigs Is Raising Money for Sex Workers Affected by the Pandemic
She opened up about her experience as a hostess at a gentlemen's club.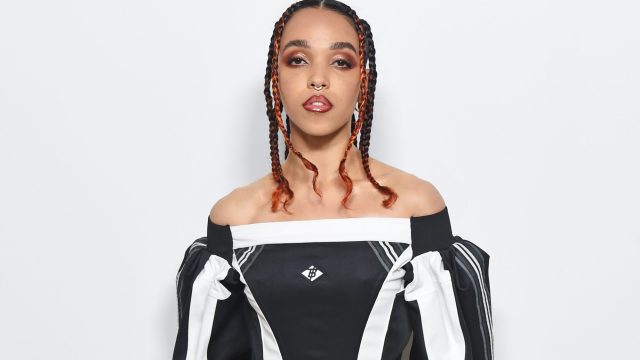 The coronavirus (COVID-19) pandemic has been devastating in virtually every way imaginable for most of the world's population. (We didn't really need to remind you of that.) But for fairly obvious reasons, the pandemic, and its resulting economic downturn, has impacted sex workers especially hard. With the launch of a new GoFundMe initiative, singer, artist, and preternaturally gifted pole dancer FKA Twigs is calling on us to provide relief for sex workers based in the U.K.
FKA Twigs announced the mutual aid fund on Instagram on August 4th. Funds will go toward SWARM Collective, Lysistrata, and East London Strippers Collective, all sex worker-led organizations that provide direct financial support to sex workers. 
This initiative is of deep personal importance to the singer: In the post, FKA Twigs opened up about her positive, formative experience as a hostess at a gentlemen's club.
"[I] was 19 when i learnt my first pole move, i learnt a back hook spin from a stripper when i was working as a hostess in a gentleman's club," she wrote. "[F]or those of you who don't know, hostessing is when one person pays another person for their time, anything from a conversation over dinner to sex work, and the club gets a cut of the fee. [M]y lived experience as a very young woman in these environments has not only informed the strong and formidable woman that i am today, but also a lot of my work as a music and visual artist – sometimes even subconsciously."
She continued to say that she felt moved to "step forward, pay respect, and shine a light on the challenges facing sex workers, especially during these uncertain times."
Since the stigma surrounding sex work still reigns in the mainstream—and as sex work remains illegal in much of this country and many others—strippers, escorts, dominatrixes, and others have largely been excluded from economic relief efforts. Businesses of a "prurient sexual nature," for instance, are banned from receiving Payment Protection Program loans and other SBA loans designed to provide financial aid to small business owners affected by the pandemic.   
"[S]ex workers I know and have met have discipline, craft, talent and work ethic – not only do they deserve better long-term, but their income has been wiped out by the lockdown and many are invisible to the financial aid available to others," the singer explained. 
FKA Twigs kicked off the fundraiser with a £10,000 donation (about 13,000 U.S. dollars), and announced that SWARM, Lysistrata, and ELSC will be taking over her social media channels this week. If you, too, understand that sex work is work, and you have the means to advocate for sex workers with your wallet, head to the fundraiser's GoFundMe page to help them reach their £30,000 goal.     
As information about the coronavirus pandemic rapidly changes, HelloGiggles is committed to providing accurate and helpful coverage to our readers. As such, some of the information in this story may have changed after publication. For the latest on COVID-19, we encourage you to use online resources from CDC, WHO, and local public health departments, and visit our coronavirus hub.