"Fixer Upper's" Chip and Joanna Gaines are expecting another baby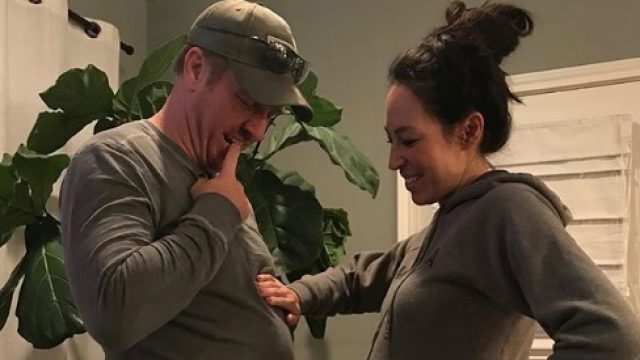 We may only be three days into the new year, but it seems like 2018 is going to be epic for celebrity offspring. We're already excited about Khloé Kardashian's first child and America Ferrera's recent pregnancy announcement (to name just a few), and now we have more thrilling news to add to the list: Fixer Upper stars Chip and Joanna Gaines are expecting their fifth child, and we couldn't be happier for them.
The couple made their adorable announcement shortly after the latest episode of Fixer Upper aired on HGTV on Tuesday, January 2nd. Chip posted the cutest photo of the two of them showing off their bellies, and wrote, "Gaines party of 7. (If you are still confused. WE ARE PREGNANT)."
This morning, Joanna tweeted a sonogram video of the baby's heartbeat, along with Chip's prediction that the baby will be a boy.
This latest baby will be their fifth. Chip and Joanna are already parents to Drake, 12; Ella, 11; Duke, 9; and Emmie, 7. Their extended family is growing as well — the episode that aired before the announcement was one where they fixed up a home for Joanna's sister and husband, who are expecting their sixth child.
Chip also dropped some, ahem, personal info on how the baby was conceived…
It's not exactly shocking that the couple is expecting again. In June, Joanna told People.com that she would "love another baby — or twins." In September, the couple announced that the current fifth season of Fixer Upper would be the last, and in November, Chip told Houston radio station KTRK that he was "really excited" to "try to make some more babies."
While we're bummed we won't get to see the newborn on an upcoming season of Fixer Upper, we're thrilled for this exciting news from Chip and Joanna. And who knows? Maybe twins will still be in their future.