Five times Leonardo DiCaprio should've won the Oscar
Who else is on #TeamLeo for the Oscars? I don't know about y'all, but I bought a box of tissues especially for the occasion, because regardless of whether he does win, I will be crying. Because I, along with every other lifelong Leo fan, have been waiting a long time. And I will be a mess when he eventually does win both because I grew up on Leo's movies, and because everyone in the room will be standing and applauding. It will be such a huge, well-deserved moment.
And it's not just because Leo is the most handsome and versatile actor to ever grace our movie screens, who also somehow finds time to help the environment in a huge way. It's because of his impressive 25-year career in film, over which time he has proven he can play everything from a lovesick teenager, to a drug addict, to a thief, and everything in between.
He has been nominated for an Academy Award so many times. In my opinion, these are the times Leonardo DiCaprio truly should've won, regardless of whether he was nominated.
What's Eating Gilbert Grape (1993)
This was the first movie Leo made a big appearance in, and is considered his breakthrough role. As the developmentally disabled younger brother of Johnny Depp's titular character, a teenage Leo shone so much that every time anyone mentions this movie, he is the standout aspect in the forefront of our thoughts – which is saying something, since Johnny Depp is incredible and many would argue the early/mid 1990s were his prime (see: Edward Scissorhands, Ed Wood).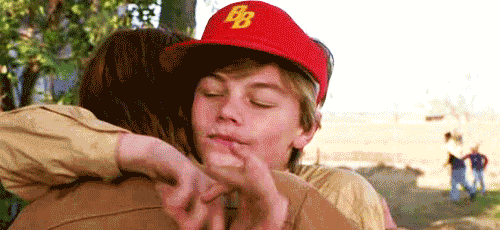 Leo did get an Oscar nod for this movie, but lost to our collective badass grandpa Tommy Lee Jones in The Fugitive (which was also very well-deserved).
Romeo + Juliet (1996)
Hear me out on this one. Romeo and Juliet has been done. And done. And done again, in so many forms from theatre to screen, ballet, and more. I have always liked the original play, but I wasn't really exposed to it until I was 11, when Baz Luhrmann's version was released.
This is one of my favorite movies period, and it's my favorite of Leo's. Because on top of a completely unique backdrop and all-star cast (Claire Danes, John Leguizamo, PAUL FREAKING RUDD), he still shines – and he plays what I believe is one of the least interesting roles in the original play. Leo gave Romeo a depth he hadn't had before 1996, in my humble opinion, constantly breaking down the walls between lovesick teenager, loyal friend and family member, man whose anger knows no bounds, and naïve little boy, and he did it in a way that ensured viewers were completely on his side. In fact, I'm going to go watch this again right now.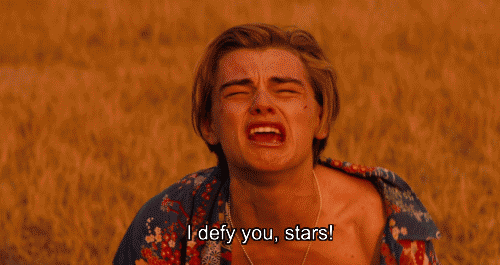 Catch Me If You Can (2002)
This movie is probably my favorite of Leo's, after Romeo + Juliet, and it's almost 100% because of his portrayal of protagonist Frank Abagnale, Jr. Though he plays a single character, he's really sort of playing three. At the beginning, we meet a young, naïve Frank who just wants to see his parents happy. Then, we start to see him spiral slowly into something he isn't deep down, but whom he believes he's supposed to be, by continually breaking the law. Finally, we see an older Frank, who has seen the cruelties of life but still somehow makes us sympathize with him. Why? Because Leo's superb acting throughout this film constantly reminds us that, deep down, Frank is still that teenager who just wants to be loved and accepted.
Plus, he made us all want to become flight attendants ASAP. Which was saying a lot for me since I have a huge fear of flying, so in my book, that is some magical acting.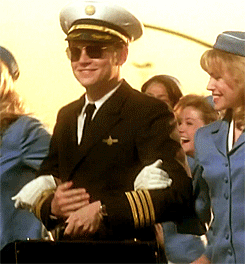 The Aviator (2004)
This is the second movie on this list for which Leo was actually nominated for the Academy Award but didn't win. For his portrayal of Howard Hughes, Leo completed hundreds of hours of research about obsessive-compulsive disorder, by meeting both with medical experts and people who suffer from the disorder, to make sure he conveyed the effects as accurately as possible on screen. This was another role, just like in Catch Me If You Can, that pushed Leo to navigate a huge character arc – from a man just figuring things out, to enjoying the height of his career, to facing his eventual spiral – in a short amount of time, and make it believable.
Revolutionary Road (2008)
I'm prepared to lose my Leo-fan street cred on what I'm about to say: I LOVE Titanic, but I don't think the role of Jack Dawson was a standout for Leo. I loved Jack of course, like every other teen girl on the planet, but it's a testament to Leo's talent that he could do better acting wise.
Enter the other film he and BFF Kate Winslet took on together a little over 10 years later, Revolutionary Road – a story worlds different from Titanic, but proved once again that he and Winslet have an onscreen chemistry that can't be matched. In this fairly straightforward story about a couple with a doomed marital partnership, the actors' talent drove the movie instead of the backdrop and story itself – and Leo didn't disappoint. Especially in that one scene. You know the one. Ugh. Be right back while I start crying all over again.