Fitness trainers tell us the biggest lies about "Instagram bodies"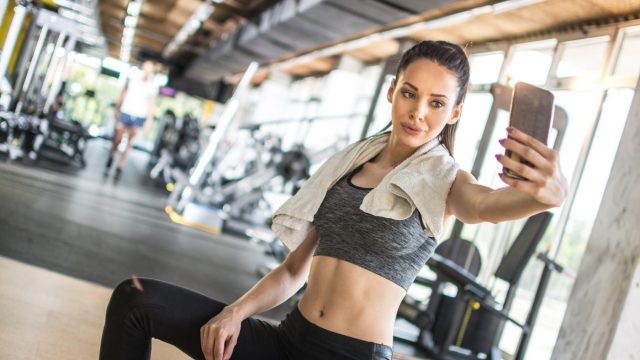 For some of us, the onset of spring brings with it immense pressure to consider the state of our physical fitness. The vaguely defined "beach body" has a way of either hanging over our heads during the parade of holiday dinners or fueling our post-New Year's attempts at a healthier lifestyle. And when you're thinking that much about your body, it's hard not to turn towards visual platforms for inspiration.
Instagram is a direct gateway to countless people who make health and fitness the center of their personal brands. Fitness influencers have a mighty reach: according to Forbes, the total combined reach of just the top 10 fitness influencers in 2017 was 106,000,000, which includes followers and likes on the three major social media platforms as well as YouTube subscribers. With that level of visibility, influencers like Australian workout expert Kayla Itsines are able to turn their individual platforms into major branding opportunities. Itsines herself managed to grow her audience enough to create a multi-million dollar app and a sold-out stadium tour.
There is also the side of Instagram that doesn't necessarily focus on health, but on marketing a body that is deemed "perfect" by societal standards. Models have just as powerful a reach (if not more so, when you include the likes of Kendall Jenner, Cara Delevingne, and the Hadid sisters) and, much like their fitness counterparts, are often looked upon as "body goals."  
But is it reasonable to chase the image of an "Instagram body" in the first place?
"There is no such thing as a 'perfect body,'" said Ashley Chatman, fitness coach and creator of Fit Body by Ashley. "Surgery, the right lighting, angles, and the best filters can make anyone appear picture-perfect."
Certified fitness trainer Camila Mariana agrees. "They are perfectly posed and it took a million shots for them to probably get 'the one.' Yes, people have beautiful bodies and we should celebrate their own self-confidence as well, but never let that set a value for yourself."
Last November, fitness trainer Cassie Ho posted a series of selfies that were photoshopped according to the beauty standards of various decades. The project highlighted the problem with deeming any body perfect: Even if you manage to acquire that perfect butt or that enviable waistline, the societal image of a perfect body can totally change 10 years down the line. If you choose to shape your image around what you see heralded by media and not by what makes you feel like your best self, you could be chasing a  constantly evolving concept for the rest of your life. So is the act of turning to social media even a helpful component of fitness?
"I think it can be helpful for getting motivated, especially if you're a visual person," Chatman explains. "Overall, I recommend clients take their own progress pictures to track their results and work towards becoming their own body goals instead of trying to be someone else's."
If you know you are a visual person, be careful who you turn to for inspiration. Posture, a tan, a filter, even the way a bikini is adjusted can totally change how a body is perceived, and that's before a photo-editing app is even considered. That's why Mariana suggests figuring out what your core health values are, then following accounts that align with them accordingly: "Yes, physical inspiration plays a huge role in who we follow and why, but the means to get there are also extremely important. If you are someone that values self-love and balance, following bodybuilders with extremely low body fat percentages that are probably not healthy is probably not within your best interest. If you are looking to stop crash dieting and removing some unhealthy habits…people that support heavy supplements, like fat burners and meal replacements, are probably not in line with things you want to be exposing yourself to."
Thankfully, there are certain corners of Instagram that are dedicated to promoting wellness rather than a specific image. Dianne Bondy, for instance, is a yoga instructor, author, and activist who uses her page to uplift and encourage people with all body types to engage in yoga in a way that works for them. Placing happiness and self-acceptance above physical appearance not only helps you feel good, but puts you in a better mindset to create goals that are manageable.  
"Be very selective about what energy you allow on your feed," Chatman advises. "Only follow accounts and influencers that inspire you, promote positivity, and actually offer helpful tips. If it doesn't serve you or makes you feel bad or negative about who you are, unfollow ASAP."
While an influencer is not responsible for how their followers physically or psychologically respond to their posts, there are ways that they can help shatter the harmful illusions of perfection, and it starts by being more transparent about their self-image.  
"They can be a bit more open about when they don't have their best days, or what they struggle with so that we reduce the pressures to have to be 'perfect' all the time," Mariana suggests. 
Chatman feels similarly. "If you built your body with plastic surgery, admit that. If it took you years of hard work and dedication to reach your goals, admit that too," she says. "Share the cellulite, stretch marks, loose skin, scars, etc. I think people connect with you and appreciate you more when you are authentic and not afraid to be yourself."
Correction: An earlier version of this article mistakenly attributed certain quotations by Ashley Chatman to Camila Mariana, and vice versa. The error has been corrected.