This fitness model used side-by-side pics to show how the "Instagram booty" is a total illusion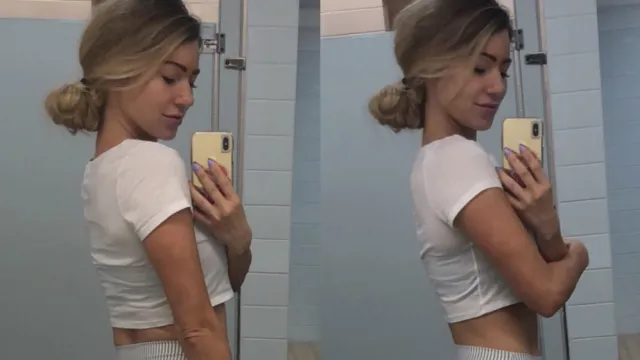 Scrolling through Instagram can sometimes feel like a test of your self-esteem. Depending on who you follow, you're probably going to see a lot of images of bloggers, models, and fitness enthusiasts looking toned and fit, in expensive clothes with a "perfect" hairstyle. It can be exhausting. So it's always nice when one of those Instagrammers gets real on the social media app to show you how those perfect photos are staged. One fitness model recently used side-by-side pictures to show that the "Instagram booty" can be a total illusion, and the pics are definitely worth looking at.
You've seen the "Instagram booty" we're referring to at least once — it's a butt that looks particularly amazing, lifted, and perfectly round.
If that butt seems almost too perfect, chances are good that it's because of the way the model is standing and holding their hips. Popular fitness model Anna Victoria proved that to her followers this week with a side-by-side photo of herself as evidence.
In the caption, Victoria says she has always felt insecure about her "small" butt, saying that exercise has helped her feel better about it, but "you need to flex it to really show it off." She talks about all the angles fitness models use to make their booties look especially great in photos, noting that she has done it too.
She says, "I love posing and admiring the 'Instagram booty,' but that's not my real booty. And I'm okay with that."
We love Victoria's message, which is that it's okay to pose in a way that makes you feel good, but it's also okay to admit that that's not exactly what you look like. She's sending an empowering message to many people who may feel down on themselves after looking at her photos, but she's also not shaming anyone, which is pretty awesome.
This isn't the first time Victoria has shown her followers the difference between Instagram photos and real life. In January, she posted a video showing the difference the right angles can make:
Victoria also made headlines last year when she posted a side-by-side photo of her flat abs when standing at a certain angle, compared to her stomach when sitting. In that caption, she wrote, "How can I be mad at my body for perfectly normal 'flaws'? This body is strong, can run miles, can lift and squat and push and pull weight around, and it's happy not just because of how it looks, but because of how it feels."
She has also posted side-by-side photos to show how her cellulite looks different in different lighting, writing, "Lighting. Is. Everything. 99% of pictures you see on social media are taken in the best possible lighting and that ain't no accident."
It's really inspiring to see models like Victoria show so much body positivity on Instagram, a platform that can often feel a little too fake for comfort. Remember: when it comes to photos — and that peach-perfect Instagram booty ? — angles really are everything!