The Marvelous Mrs. Maisel's Season 2 trailer just dropped, and this time, our '50s comedian shero is taking her act on the road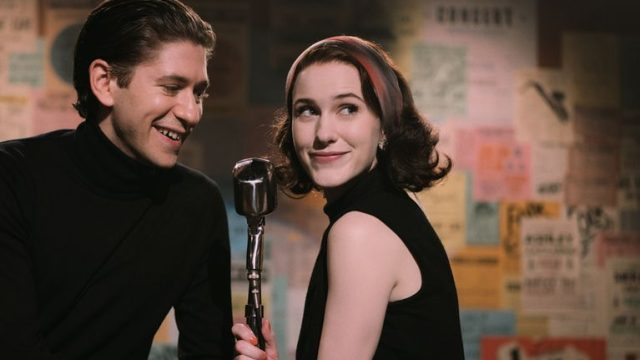 Midge Maisel is back…and she's taking her stand-up act to the Catskills. The first teaser for Season 2 of The Marvelous Mrs. Maisel just dropped and it finds the titular and newly single comedian (played by Rachel Brosnahan) balancing her budding stand-up career with her ever-dominating family.
"Relationships should be private, don't you think?" Rose Weissman (Marin Hinkle) says to Midge in the opening of the teaser, adding, "So are you dating?"
While the end of Season 1 found Midge settling into her place as an up-and-coming comic—after many, many hiccups—Season 2 finds her taking her act on tour to the Catskills, mimicking real-life comedy tours '50s comedians like Joan Rivers embarked on early in their careers.
As is everything in her life, it seems Midge and Susie's (Alex Borstein) trip to the Catskills becomes something of a family affair. Tracked to the very upbeat Judy Garland classic "Get Happy," the teaser gives us a number of glimpses of Midge's life in Season 2, from juggling her job at the department store, budding comic career, and raising her two children to *gasp* dancing with her ex-husband Joel (Michael Zegen). And as always, Abe Weissman (Tony Shalhoub) is living his very best neurotic life.
Check out the Season 2 teaser trailer:
https://www.youtube.com/watch?v=GCd29Yq4HXU?feature=oembed
Amazon, which nabbed two Golden Globes earlier this year—for Best Comedy Series and Leading Actress for Brosnahan—picked the series up for a third season in May. The series was also recently nominated for 14 Emmys, with acting nods for Brosnahan, Shalhoub, and Borstein, and a nomination for Outstanding Comedy Series.
Zachary Levi also joins Amy Sherman-Palladino's series on a recurring basis in Season 2, playing an eccentric doctor who finds himself—for better or worse—spending time with the Weissman/Maisel clan. Season 2 of The Marvelous Mrs. Maisel is set to be released on Amazon sometime later this year.