Here are the first photos of Nick Viall as bachelor…thoughts?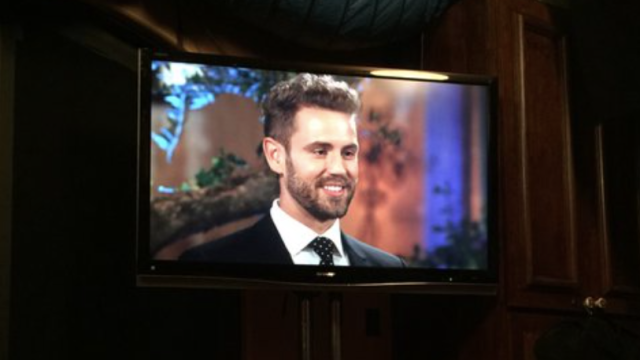 Okay, so, remember when everyone thought Luke Pell was gonna be the next star of The Bachelor and we were all excited (though some of us thought it might be Chase), but then the show's executive producer Mike Fleiss announced they'd actually cast Nick Viall and we were all like whhaaaat? Nick Viall? Two-time runner up on The Bachelorette? Y'all ever wonder WHY he wasn't the winner? Like, maybe there's a reason for it, like that he's no Luke Pell? Alright, ain't nothing wrong with Nick Viall, but we just, we just…we have a crush on Luke Pell, okay?
Well, now we've got our first sneak peak at Season 21 of The Bachelor with Nick at the helm:
Fleiss tweeted that Nick was nervous, and we heard a tiny "awww" escape from our hearts.
Fleiss posted a pic of Nick looking very much like Nick.
And a pic of the contestants arriving, while a crew member watches from a strategic spot near craft services.
And he showed us some behind-the-scenes of the contestants sitting around in formal gowns, as they do.
Can you believe we're on Season 21 of this show?! It's still everything to us, and so hard to imagine what our world would be like without it. We wouldn't have our favorite show UNREAL. And, we wouldn't have The Bachelorette, which means we wouldn't have this:
https://www.instagram.com/p/BJMfIGyg_wC
Thank you, The Bachelor, for everything. We're sticking with you.