Your first look at "The Vampire Diaries" Christmas episode is here — mistletoe, tree decorating and danger! Oh my!
It's not looking like the Salvatores are going to have a Merry Christmas, despite all of our hopes for a happy, killing-free holiday. In fact, we've got your first look at The Vampire Diaries Christmas episode, with photos of mistletoe, tree decorating and lots of tension, so prepare yourself.
On Friday, an all-new episode of The Vampire Diaries airs as usual, but this episode titled, "The Next Time I Hurt Somebody, It Could Be You," is anything but ordinary. The CW just released new photos from the upcoming episode, which is a Christmas-themed episode and sadly it's not looking merry and bright for the Mystic Falls natives.
According to the pictures, Damon is back — very much alive and still totally sexy — but he's not alone.
The oldest Salvatore brother brings Sybil to his little bro's Christmas dinner, which of course is supposed to be drama and killing free.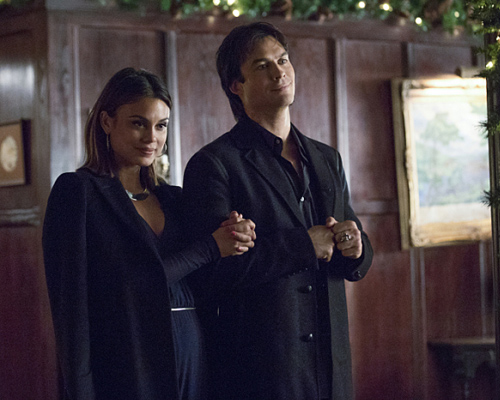 The good news is that Caroline is hosting the gorgeous dinner, with her fiancée Stefan, and their love just makes us so happy.
Mistletoe anyone?
The bad news is that Damon can't help himself, and is clearly going to cause a lot of trouble, but really, what would a party in Mystic Falls be without a little tension?
Other highlights from the pictures are Alaric bringing his daughters to the event — he's such a cute dad.
Oh, and Stefan talking to the girls, just in case you didn't already want to marry him and have his babies.
Plus, the whole Salvatore manor is very festive and looks amazing with all its Christmas decor.
Ugh, we want some of Caroline's eggnog ASAP!
To see what else is in store for Friday's episode, check out the sneak peak clip below.
Warning: Damon is pretty much the Grinch, which is made super clear by his need for murder and destruction.
https://www.youtube.com/watch?v=dBi7GJxX_F0
What do you think about The Vampire Diaries' Christmas episode?
Tune in on Friday, December 9th at 8 p.m. on The CW to see what actually happens at the Salvatore's Christmas shindig, and remember it could be bloody!